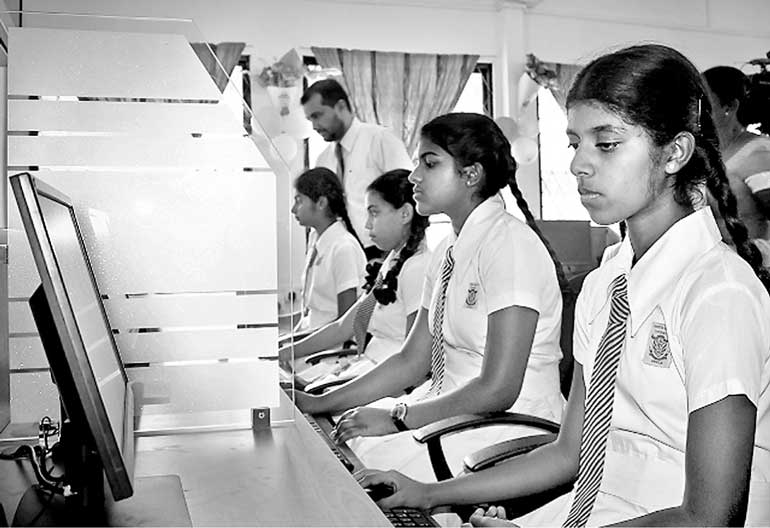 Students use the new computer laboratory at Jinaraja Balika Maha Vidyalaya Gampola
ESOFT Metro Campus, which has launched the 'e-Thilina' community service oriented initiative in partnership with Sirasa TV, donated a fully-fledged computer laboratory with internet and other modern facilities to the Jinaraja Balika Maha Vidyalaya in Gampola, recently.

Under this ESOFT-Sirasa collaboration, a deserving school is provided with a fully-equipped computer laboratory every month where such a vital facility is unavailable despite the presence of students either clever at IT (Information Technology) or keen to pursue the subject as part of their educational curricular and for professional advancement in the long-term.

The ceremonial opening of the modern computer laboratory at the Jinaraja Balika Maha Vidyalaya Gampola, was held under the patronage of ESOFT Metro Campus, Kandy Region General Manager Shamri Ahafurdeen, ESOFT Metro Campus Assistant Manager Branch Operations Harsha Ravindra, Kandy ESOFT Metro Campus Deputy Centre Manager Dimuthu Thammitage, Sirasa TV Director Sales S. Skanderkumar, Sirasa TV Executive Programmer Sanath Nandana, MBC-MTV Sales Manager Daminda Nissanka and Gampola Jinaraja Balika Maha Vidyalaya Principal P.G. Pushpakanthi.

ESOFT-Sirasa 'e-Thilina' CSR project donated the first computer lab to Kumbukwewa Maha Vidyalaya at Ibbagamuwa, Kurunegala. Under this CSR project the lab donated to Jinaraja Balika Maha Vidyalaya, Gampola is the 16th such.

With roots going back to the year 2000, ESOFT has today grown to be the largest private sector education network in Sri Lanka due to the extensive coverage that it has via a branch network which includes ESOFT Metro Colleges, ESOFT Regional Campuses, and ESOFT Metro Campuses. Initially starting with IT and Computing, today ESOFT has grown in to a diversified education provider in the fields of ICT and Computing, Business and Management, Hospitality Management, Engineering, and English. ESOFT is accredited by the BCS – The Chartered Institute for IT, and also by Edexcel (UK).

It is also the Strategic Partner of the London Metropolitan University, UK to exclusively offer their undergraduate and postgraduate qualifications in Sri Lanka. ESOFT is also the largest course provider for the BIT Degree of the University of Colombo School of Computing (UCSC). With an eminent panel of experienced and accomplished lecturers, ESOFT is equipped with all modern facilities including air-conditioned classrooms, a state-of-the-art auditorium, laboratory and library. ESOFT was awarded the ISO 9001-2008 International Certification for its high quality education. ESOFT's website is www.esoft.lk.