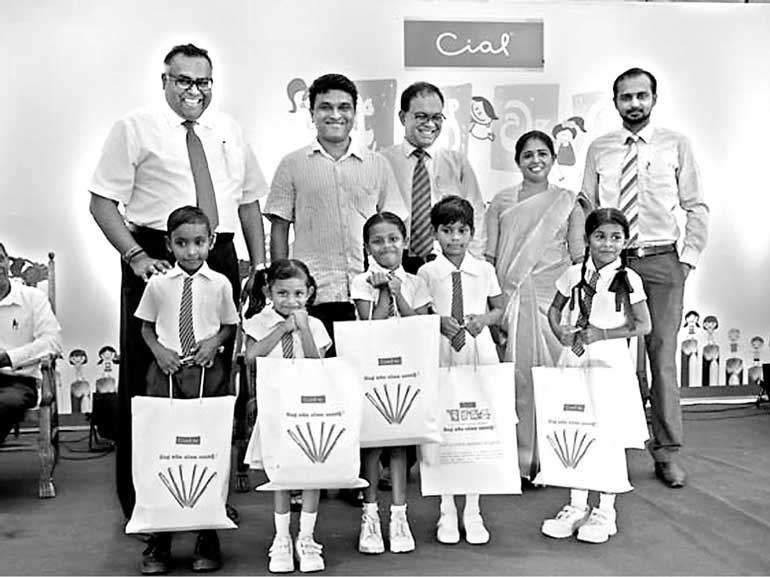 From left: CIC Holdings CEO/Managing Director Samantha Ranatunga, Member of Parliament Naleen Bandara , CIC Holdings Divisional Director, Consumer and Healthcare W.S. Premakumar, Swarnapradeepa Kanishta Vidyalaya – Halmillawewa Principal Himali Rajapaksha, CIC Holdings General Manager, Consumer Nisrin Ali
Cial, a key stationery brand in Sri Lanka which is manufactured and marketed by CIC Holdings PLC, has launched an innovative social responsibility initiative towards fulfilling one of its sustainability goals of providing education to underprivileged children.

As part of this initiative, 10 cents from every Cial pen sold will be chanelled into the 'Cial Athwala' fund, exclusively set up for meeting the educational needs of underprivileged children in rural areas of the island. The funds will be used for fulfilling educational needs of children hailing from low income families. This notable project was launched on 24 September with Nalin Bandara member of Parliament for the Kurunegala district gracing the event as the chief guest together with CIC officials at the Halmillawewa Swarnapradeepa Junior School in the presence of school staff and students.

Commenting on this sustainable initiative, CIC Holdings Managing Director/CEO Samantha Ranatunga said, "Cial has built a strong reputation over 45 years as a brand that offers convenience and perfection in writing for students and profesisonals alike, backed by advanced British manufacturing technology. The brand's close association with students led us to identify critical obstacles that underprivileged students face in their pursuit of accessing education.

"The 'Cial Athwala' Fund was launched by the company to make a long-term and sustainable impact on improving educational opportunities for underpriviged students in rural areas of the country, so that they can pursue their academic goals without restraint. CIC Holdings PLC is led by a strong sustainability ethos which continually inspires our involvement in serving local communities. The nation's future is in the hands of the next generation and Cial together with CIC Holdings is proud to help strengthen educational prospects to build future leaders."

Cial offers a diverse range of writing instruments that are safe, durable and offer high quality writing skills. Positioned as a value-for-money brand, Cial is part of Industrial Solutions at CIC Holdings PLC.