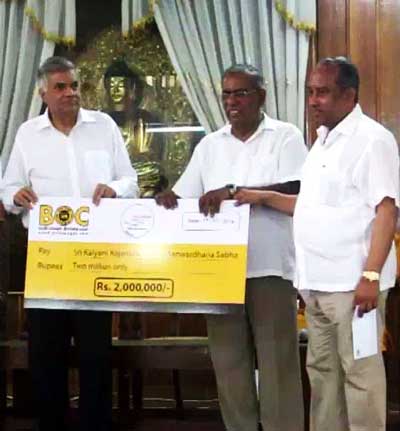 The Bankers to the Nation, Bank of Ceylon is sponsoring the historic Kelaniya Duruthu Maha Perehara.

The historic Kelaniya Duruthu Perehera is an annual procession that takes place as a ritual to commemorate the Lord Buddha's visit to Sri Lanka. Organised by the Kelaniya Temple and its 'Dayaka Sabbawa' the procession depicts the traditional customs and the cultural heritage of the country and is viewed by thousands of tourists every year.

The main division of the Randoli Perehera is the main focus among all processions for most Buddhists and tourists. During this time period special religious activities takes place in Kelaniya Rajamaha Viharaya including a series of Buddhist sermons, pirith chanting and other related rituals.

"Having to be part of this religious activity that is a part of the country's national heritage is truly a privilege. We humbly believe that we have been able to be some assistance in preserving this religious and cultural event that evokes the goodwill that is propagated by Buddhist teachings in the minds of all Sri Lankans," stated Bank of Ceylon General Manager D.M. Gunasekera. As a part of the bank's strategic Corporate Social Responsibility, the Bank of Ceylon gives serious consideration to protecting Sri Lanka's national heritage and culture in order to preserve them for future generations.