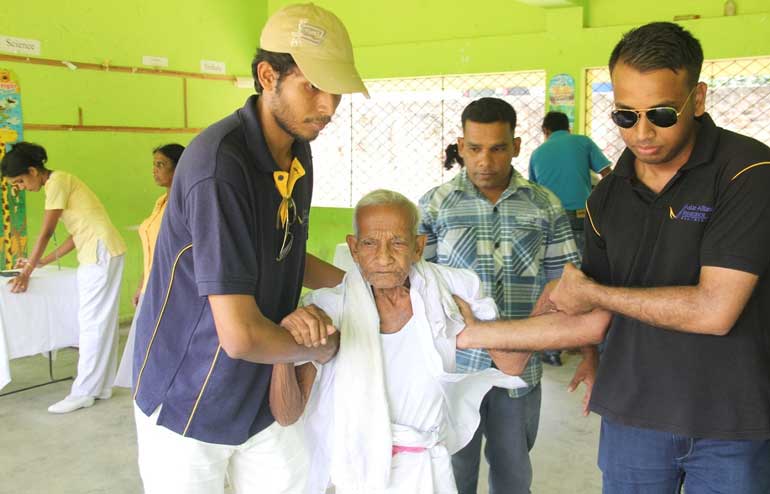 An elderly area resident who participated at the Health Camp being assisted by Asian Alliance staff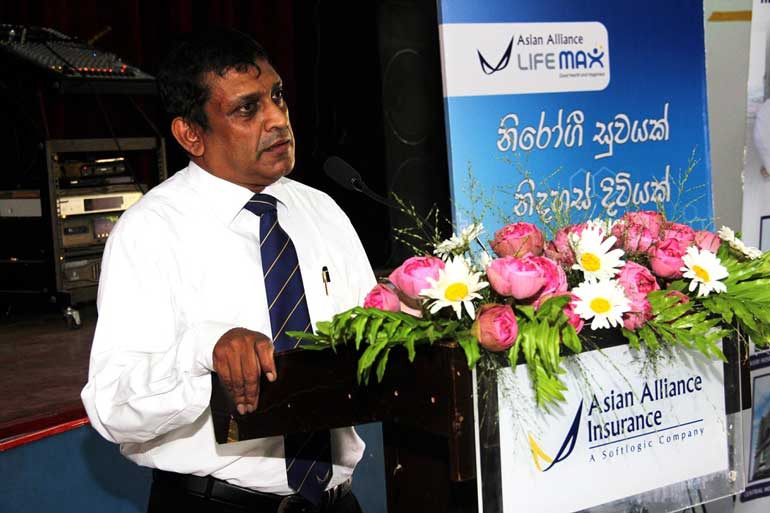 Asian Alliance Life COO Chula Hettiarachchi speaking at the event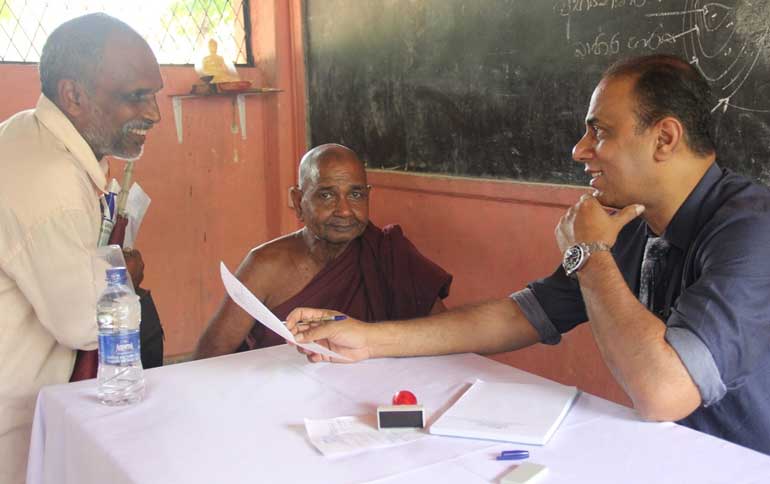 Asiri Surgical Hospital Urologist Dr. Dimantha De Silva providing medical guidance to an area resident
Asian Alliance Insurance PLC and Asiri Surgical Hospital, who are both members of the Softlogic Group, recently extended a helping hand to the people of the kidney disease-stricken Polpithigama area, by testing over 260 area residents for urological/kidney-related medical issues, in the first in a series of free health camps.

Recognising issues faced by Polpithigama residents in travelling a large distance to Kurunegala to obtain medical assistance, the program was held with the input of urologists of Asiri Surgical Hospital, Dr. Dimantha De Silva and Dr. Suren De Zylva and medical officers and doctors from the area to identify those with urological conditions such as haematuria (blood in the urine), kidney stones and infections.

At the Joint Health Camp organised by the two Softlogic Group companies, patients were initially screened by four medical officers and then directed to urologists based on need, given a second opinion and required tests free-of-charge – including Ultrasound (US) scan, Body Mass Index (BMI), Random Blood Sugar and Electrocardiogram (ECG) and patients detected with issues were referred to the Urology Clinic at General Hospital – Kurunegala.

Area residents above 40 years of age were invited to participate at the Health Camp. In addition to screening, efforts were also made to improve the area residents' awareness/understanding of urological/kidney-related conditions.

"This initiative represents our commitment to assist those in need who lack the required facilities the most, through our community initiatives," Asian Alliance Insurance PLC COO Life, Chula Hettiarachchi said. "With the assistance of partners such as the Asiri Surgical Hospital – which we greatly appreciate – we hope to further extend these efforts and touch the lives of many more Sri Lankans in need."

The event was attended by a number of dignitaries including Chief Guest and General Hospital, Polpithigama DMO Dr. Sampath Gamage, Asian Alliance Life COO Chula Hettiarachchi, Asiri Surgical Medical Director Dr. Ruwan Senatilleke, Asiri Surgical Hospital Head of Marketing Dasarath Hettiarachchi, Polpithigama MOH official Dr. W.N.P.U. Kumara, Polpithigama OIC R.B.U. Ratnamalala, Polpithigama Vidyalaya Principal A.M.N. Mahesh Atapattu, Nikawewa Central College Principal S.B. Dissanayake and other Asian Alliance officials.

Asian Alliance Insurance PLC is held by Softlogic Capital PLC and is part of the Softlogic Group, which is recognised as one of Sri Lanka's most diversified and fastest-growing conglomerates with interests in Healthcare, Retail, ICT, Leisure, Automobiles and Financial Services. Significant stakeholders in the company also include FMO and DEG that are rated 'AAA' Development Financial Institutions from the Netherlands and Germany respectively.