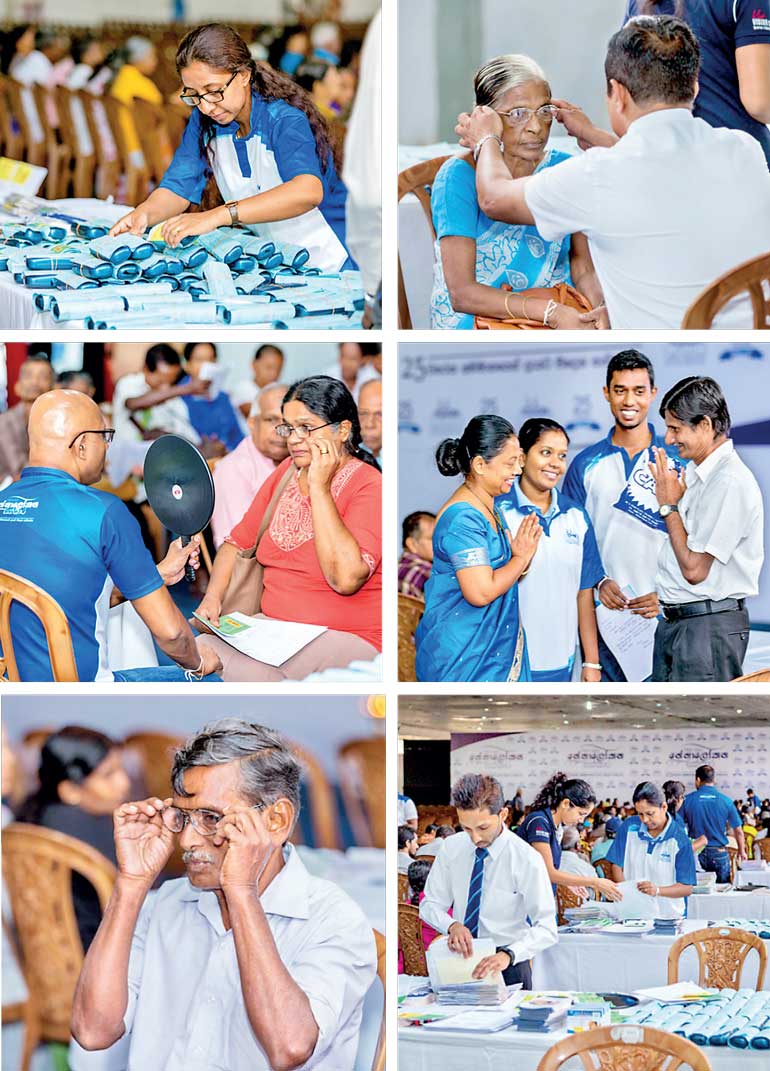 Nethralokana Sathkara, the project conducted as part of commemorating 25 years of Vision Care, the country's leading eye care services provider, was successfully concluded in Colombo on 24 July.

Launched on 19 April, the project reached the goal of distributing 25,000 pairs of spectacles free of charge among deserving Sri Lankans, in all corners of the country, through six mega events and 40 branches of the organization.

As the first step of this initiative, applications were called for, where beneficiaries made submissions at the company's branches, on a first-come-first-serve basis. This was followed by testing events which were predetermined appointments for a comprehensive eye test.

Based on these tests, the orders were processed through a dedicated channel of glass-making created to cater for this project, ensuring speedy delivery. Finally, the pairs of spectacles were distributed among the applicants at scheduled awarding events at the respective locations.

"The optometrist in me was very happy to see a larger number of people getting tested for the first time. Seeing them realise the importance of an eye checkup, educating themselves of their impairment and taking corrective steps was a very satisfying aspect of the project," said Vision Care CEO Dasantha Fonseka. He strongly believes that awareness plays a major role in eliminating preventable blindness, and proper eye checkups can play a critical role in this.

The objective of taking the project to a wide audience led to six mega testing events and awarding events that were held in Galle, Kandy, Kurunegala, Jaffna, Anuradhapura and Colombo, travelling more than 4,000 km. To strengthen the reach of the program, the company also used its network of 40 branches which conducted their own distribution of spectacles.

The scale of the project was a first-of-its-kind for Sri Lanka, and this meant extended hours and resources, and nearly 500 people playing a role in its success. In fact, on two occasions in Galle and Jaffna, the team was faced with unforeseen weather implications, which had to be managed with an immediate change of locations, on the day.

Surmounting these challenges seems well worth it, given the impact the project has had on many of its beneficiaries. Chamila Welikala, the Chairperson of the Nethralokana Sathkara project, said: "On one occasion we encountered a 40-year-old woman who was partially blind and had never tested her eyes before. Although we could only improve her eyesight marginally, the joy in her was unmistakable. On another, there was a 60-year-old man, a daily wage worker and sole breadwinner of the family who was unable to take time off his work to check his eyes and be able to afford the spectacles both at the same time as he had to earn each day to make ends meet."

These stories, and thousands more, each with its own poignant ending, has made this project a humbling experiencing for all employees at Vision Care. The company is delighted as a team to have chosen to proceed with this project. The experience of having extended their services, the same manner in which they do at all of their branches, to a group of people who might find it difficult to afford eye care under normal circumstances, has been a rewarding one.

Vision Care has spent 2,808 hours for planning, 8,372 hours for testing, 6,279 hours for awarding spectacles and 7,744 hours for making glasses. The total number of 26,589 applications was accepted throughout the registration period of Vision Care's Nethralokana Sathkara initiative.

Known for its years of trusted excellence and continuous adoption of the latest technology, Vision Care is the market leader in eye care and hearing solutions in the country today.

With a qualified team of ophthalmic technologists and optometrists who conduct comprehensive eye examinations using state-of- the-art equipment to establish one's eyesight and the health of the eye, Vision Care offers its services through 40 plus outlets island-wide.

Vision Care is known as 'The Best Eye Care Service Provider,' where all areas of ophthalmology are provided under one roof, while continuing to offer unparalleled services to all through its extended network of branches.

Over the last 25 years, Vision Care has continuously aimed at providing affordable eye and hearing care combined with exceptional customer service and access to the most advanced vision and hearing correction technologies available. This has contributed to their popularity for offering solutions to customers from all walks of life.