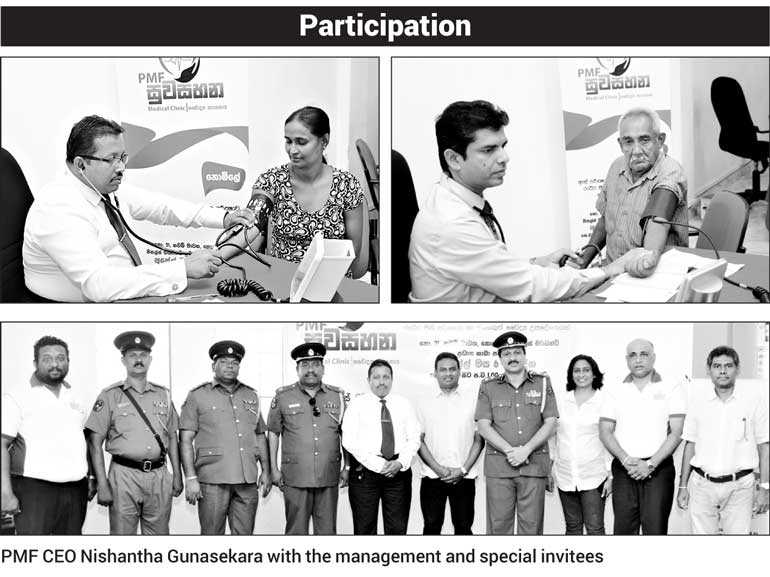 People's Merchant Finance PLC (PMF) successfully conducted a medical clinic recently in concurrence with 'World Health Day' at PMF Head Office premises in Colombo 2.

At a period where non-communicable diseases are affecting the society significantly, PMF being committed to meeting its obligations towards the community, provided free of charge services such as, testing of blood sugar levels, blood pressure levels and checking the eye sight, through 'PMF Suwasahana Medical Clinic' for the employees of companies in close proximity and to the residents of Slave Island.

This social event was organised by PMF with the collaboration of Public Health Unit of Colombo Municipal Council, Slave Island Police Station, Community Police Unit of Slave Island Police Station, Nawaloka Hospitals PLC and Vision Care Optical Ltd.

PMF, having over 36 years of existence in the financial sector intends to provide better financial solutions to the needs of their customers with its impending new investment.

Chief Executive Officer Nishantha Gunasekara said that PMF intends to make an inspirational change to all aspects of the company, be it business, the patrons, the staff and its social responsibility towards the society.

"We believe in being compassionate towards all beings. People's Merchant Finance PLC with its branch network will continue its generous gesture of goodwill and extend its duty to the nation and the people by conducting worthy projects in the future. The staff voluntarily contributes to this worthy causes while the company funds the events. At this moment of success, the PMF appreciates its customers and depositors for their trust, confidence and unwavering loyalty they have had towards PMF and look forward to attract new opportunities in the future," he said.