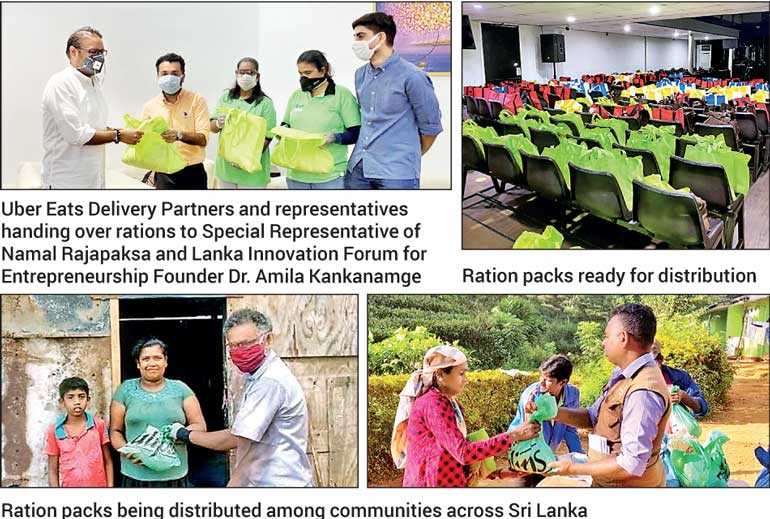 Uber Eats, in partnership with the Government of Sri Lanka and the Voice for Voiceless Foundation, is distributing Rs. 8.5 million worth of dry rations across the country to support low-income communities during the COVID-19 pandemic.

This initiative is being carried out as part of Uber's global pledge to provide 10 million rides and food deliveries free-of-charge to healthcare workers and communities in need.

The dry rations are being delivered to areas with restricted or no access to essential supplies during the ongoing pandemic and due to the recent flooding. The Government of Sri Lanka and Voice For Voiceless Foundation are assisting in distributing dry ration packs to the armed forces, Police officers, estate workers, single mothers, and places of worship.

Commenting on the initiative, MP Namal Rajapaksa stated: "I thank Uber for their support during this crisis. From delivering essentials, donating food packs and providing free transport to health care workers directly involved in battling COVID-19, their contribution in this time of crisis is deeply appreciated."

Uber Eats Sri Lanka Lead Bhavna Dadlani added: "As the country unites against the COVID-19 pandemic, we are proud to partner with the Government of Sri Lanka and Voice For Voiceless Foundation to support the country's most vulnerable communities. We pledge to continue to stand in solidarity with our fellow citizens as best as we can."

In addition to distributing dry ration packs, Uber has utilised its technology and vast network of driver partners to offer Rs. 8.5 million worth of free rides via UberMedic to frontline healthcare workers.

Uber also provided Rs. 10 million worth of safety supplies to drivers in partnership with Dettol, and is assisting in providing additional income for restaurant and delivery partners through Uber Eats' new in-app tipping feature.