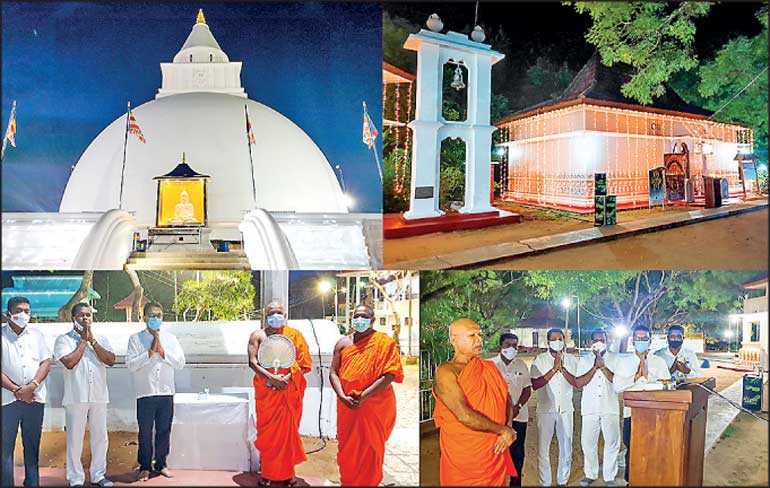 Chief Incumbent of Kirivehera Rajamaha Viharaya in Kataragama Kobawaka Dhamminda Thera, Chief Incumbent of Mahasen Raja Maha Viharaya in Sella Kataragama Padaugama Jinananda Thera and officials from Swadeshi
The 2020 Esala festivals of the Kataragama Kiri Vehera and the Sella Kataragama Devalaya, two important places of worship in Sri Lanka, are being illuminated by The Swadeshi Industrial Works PLC the pioneer herbal-personal care products manufacturer. The illumination is done under the theme of 'Swadeshi Khomba Aloka Puja Sathkaraya'.

The ongoing events began on 21 July and end on 4 August, and Swadeshi is sponsoring the Aloka Poojawa for the 19th consecutive year.

Swadeshi Chairperson Amari Wijewardene said that as a Sri Lankan owned company, we consider it a duty to safeguard the culture and traditional heritage of Sri Lanka by supporting activities such as this annual Aloka Poojawa.

She further observed that Swadeshi illuminates places of worship in the country for the benefit of all worshippers and also to educate the younger generation on the importance of safeguarding the country's heritage. The illumination is followed by a colourful cultural pageant which highlights Sri Lankan traditions and history. According to the Mahavamsa, Kiri Vehera was built by King Mahanaga in a commemoration of the Buddha's visit to Kataragama Kihiri Uyana to deliver dharma during his third visit to Sri Lanka.

Sella Kataragama is the place where god Kataragama first met his first consort Valli Amma. The Lord Kataragama is worshiped by people of different races and religions not only in Sri Lanka but also in various parts of the world.

In 2013 the 'Sri Dalada Maligawa' of historic Dambadeni Raja Maha Viharaya, where the sacred tooth relic was kept and the ancient murals were renovated by Swadeshi Chairperson Amari Wijewardene to bring back its past glory.

Amari Wijewardene is the great granddaughter of Helena Wijewardene Lamatheni, who initiated renovations of the Kelaniya Raja Maha Viharaya in 1927.Swadeshi also supports the annual Aloka Poojawa of Devundara Sri Vishnu Devalaya, Sabaragamu Maha Saman Devalaya, Redigama Ridi Viharaya, Dambadeniya Raja Maha Viharaya and Keragala Raja Maha Viharaya.