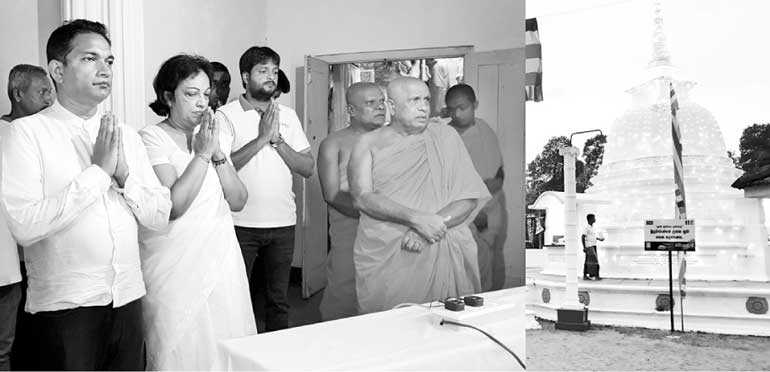 Donation of water tanks for the 'Daham Pasalas' in need of water
Swadeshi Industrial Works PLC, the pioneer herbal-personal care products manufacturer, donates water tanks for communities all over Sri Lanka and books regarding good values to schools. This CSR project continues under 'Swadeshi Khomba Herbal Soap' brand. Swadeshi recently donated water tanks and books to rural villages all over the island.

Spokesperson of Swadeshi said that as a Sri Lankan-owned company, it considers it a duty to help the communities in the rural areas in Sri Lanka to raise a healthier younger generation. Getting safe water for drinking in schools is a big problem in dry zone areas in Sri Lanka. During the driest times of the year, children are having health issue by not consuming sufficient water during the day. The community suffers many difficulties and hardships due to this.

"At Swadeshi we think this is our own social responsibility and we are hoping to continue this project in years to come," she added.

It's another 'Swadeshi Khomba Puja Sathkaraya' project which gives safe water for hundreds of students and teachers.

"We also have printed a book for school kids briefing good values and habits and at this moment of time cultivating good values and habits in the country is a must," she added.

Swadeshi Khomba also annually illuminates the country's most famous temples under the theme, 'Swadeshi Khomba Aloka Puja Sathkaraya'. "As a Sri Lankan-owned company, we consider it a duty to safeguard the culture and traditional heritage of Sri Lanka by supporting activities such as Aloka Poojawa," she added.

She explained that Swadeshi illuminates places of worship in the country for the benefit of all worshippers and also to educate the younger generation on the importance of safeguarding the country's heritage.

Swadeshi supports the Aloka Poojas of Kataragama Kiri Wehera, Ruhunu Kataragama Maha Devalaya, Devundara Uthpalawarna Vishnu Devalaya, Redeegama Ridee Viharaya, Rathnapura Maha Saman Devalaya, Dambadeniya Raja Maha Viharaya and Keragala Raja Maha Viharaya annually. "As a local manufacturer we are always ready to put back what we earn to help our communities and we will continue to do this and we will keep on improving the life of our communities in our mother land," she added.