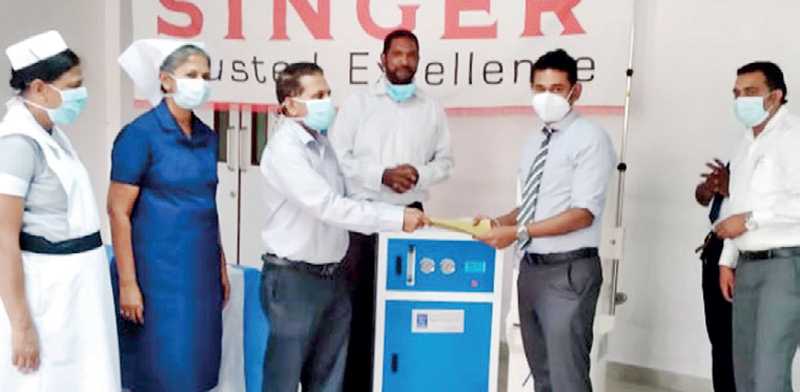 The donation of the two dialysis CRRT machines was carried out online with the participation of Singer Sri Lanka Group CEO Mahesh Wijewardene, Human Resources Director Roshan Kulasuriya, Marketing Manager Darshana Appuhamy, NHSL Deputy Director Dr. Lionel Muhandiramge, Consultant – ICU Dr. Dilshan Priyankara, Registrar Dr. Aravinda Guruge, Chief Nursing Officer Karunaratne and In Charge Medical Samaratunga
---
10 dialysis CRRT machines within a period of 7 years
---
'Singer Thirst for Life' corporate social responsibility (CSR) project recently donated two dialysis continuous renal replacement therapy (CRRT) machines to the National Hospital of Sri Lanka (NHSL) to help treat patients with Chronic Kidney Diseases (CKD).

'Thirst for Life' has a special place among the CSR activities of the Singer Sri Lanka Group. These donations are done after identifying specific requirements at Government hospitals for dialysis CRRT machines.

'Thirst for Life' project was started in 2013 by donating two dialysis CRRT machines to the Polonnaruwa Hospital. So far Singer Sri Lanka has donated 10 dialysis CRRT machines worth Rs.30 million. Other hospitals that received dialysis CRRT machines were: Batticaloa Teaching Hospital, Jaffna General Hospital, Wathupitiwala Base Hospital and Padaviya General Hospital.

Singer Sri Lanka Group CEO Mahesh Wijewardene said they are very happy about being able to donate 10 dialysis CRRT machines during the last seven years under 'Thirst for Life" program. "Singer water filters available at Singer Sri Lanka showrooms island-wide help to minimise the threat of chronic kidney diseases in Sri Lanka. But without stopping there, through this project Singer Sri Lanka is making a worthy effort to protect the lives of kidney of patients," Wijewardene said.

Dr. Aravinda Guruge at the Intensive Care Unit (ICU) of NHSL said thanks to Singer Sri Lanka's donation, now dialysis of chronic kidney patients coming to the NHSL from various parts of the country can be done at the ICU without sending them to different other units of the hospital, making the lives of both the patients and doctors much easier.

The main force behind this project, Signer Sri Lanka Marketing Manager Darshana Appuhamy remarked that Signer Sri Lanka's responsible behavior as a corporate citizen is very well demonstrated with the donation of 10 dialysis CRRT machines within a period of seven years. "Rs.100 from every water filter sold at all Singer Sri Lanka showroom is credited to this project. We are determined to continue this project for many years to come and thereby setting an example to other companies to take part in similar CSR activities to help the people who go to government hospitals for such treatments," Appuhamy said.