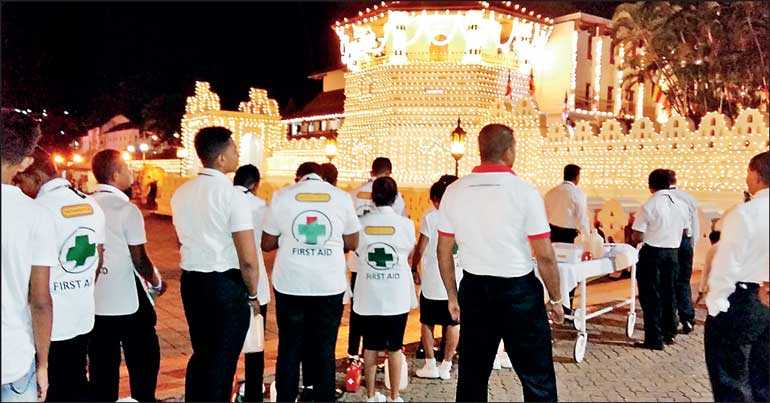 Kandy Dalada Festival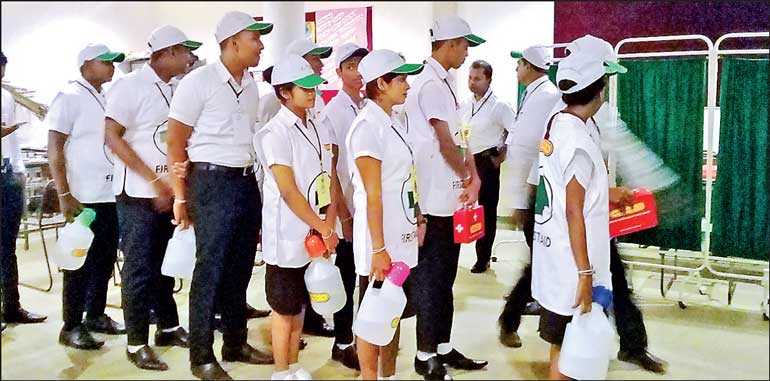 Siddhalepa Suva Saviya First Aid team at the Kandy Dalada Perehera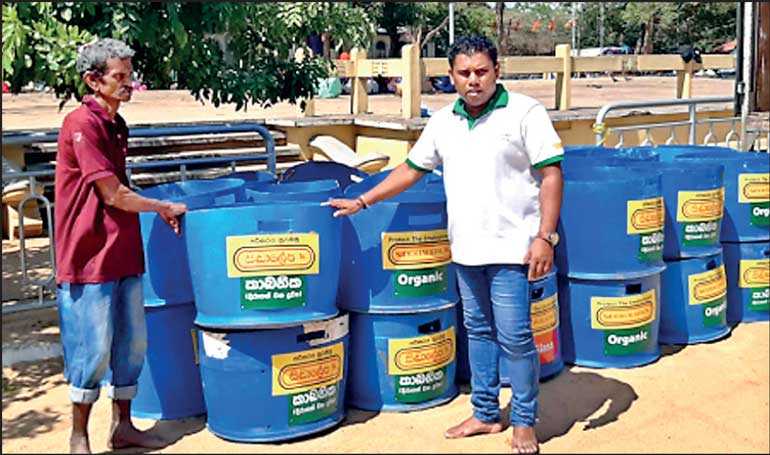 Garbage bins stacked and ready to be placed all over the religious premises to keep the area clean

Weary pilgrims line up for a refreshing healthy AquaLive drink, provided free of charge to all devotees during the Kataragama Festival
---
Keeping up traditions at places of religious worship, especially during the festival period is a Siddhalepa brand experience. The 'Vedamahattaya' that should be in every home is also always present at Sri Lanka's main religious places of worship, a key mover in protecting the environment in the area and inculcating the habit of keeping the religious premises clean among the thousands of pilgrims who flock to worship at these shrines.

The Ruhunu Kataragama Esala Festival held from 22 June to 17 July and the Kandy Dalada Festival from 5 to 15 August, were two key festivals where Siddhalepa teams were in full force, providing first aid services to the throngs of pilgrims, serving refreshing beverages, and ensuring a clean environment in the religious premises.

The company was also present at the Yudaganawa temple in Buttala in July where the Esala festival was celebrated.

Siddhalepa has been in the forefront of keeping the environment clean in many places of religious worship of all religious denominations, all around the country including the North. The Nallur temple and the Basilica in Thewatte Ragama are among them.

At the recently concluded Kanday Dalada Festival Siddhalepa continued its recent tradition of playing a main role in proving first aid to the thousands who flock to witness the pageant of the Kandy Dalada Perehera. This year the Siddhalepa team worked together with Suva Saviya Young Education Foundation, under the banner of Siddhalepa Suva Saviya First Aid Service.

Over the years Siddhalepa's thirst aid stalls in these religious premises which served Lak Peyawa to pilgrims has changed to the new zero sugar herbal health drink, AquaLive which comes in five fruit flavours – peach, orange, plum, mango and melon.

This year's thirst aid stall at the Kataragama Festival drew a mix of complimentary responses from pilgrim who tasted the drink for the first time.

The zero sugar, zero chemical, zero artificial flavour and colour herbal drink contains health properties that relieve a series of illnesses and health conditions.

The peach flavour is with Rasakinda, melon flavour with Polpala, mango flavour with Ranawara, plum flavour with Belimal and orange flavour with Iramusu.

As the leading ayruveda pharmaceutical and health products manufacturer in the country, the Hettigoda Group is committed towards building a healthy nation through their holistic approach to a healthier lifestyle.