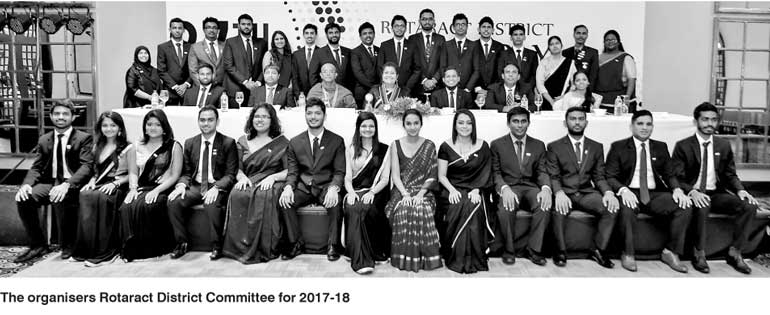 Rotaract is the official youth counterpart of world renowned service organisation Rotary International, designed especially for like-minded individuals aged 18 to 30.

Rotaract functions under the motto Self- development- Fellowship through Service and is currently an unbeatable phenomenon involving 290,000 Rotaractors representing approximately 9500 Rotaract Clubs based in 177 countries all over the world.

The organisation is well known for its work related to the four main avenues of community service, club service, international service and professional development while engaging in activities dedicated to fellowship and networking among members who are on the verge of adulthood and stable careers.

Rotaract was born as a youth organisation on 23 March 1968 with the chartering of the Rotaract Club of North Charlotte, Carolina in the United States of America. The word "Rotaract" was formed as an acronym for the words "Rotary in Action" in order to symbolise the young population involved in the movement that would take up the challenge of changing the society for a better tomorrow.

The aim of the program was stated to be "to develop leadership and responsible citizenship through service to the community". By the 1990s Rotaract had spread to various parts of the world and now Districts have formed multi-District organisations in order to enhance international connections between Clubs.

The Rotaract District Sri Lanka and Maldives began in 1969 with the chartering of the Rotaract Club of Colombo, and ever since the movement has played a significant role in shaping the lives of youth who are preparing themselves to take up the reins of the future.

Today, almost 50 years after its inauguration the Rotaract District 3220 Sri Lanka and Maldives boats of 4,300 Rotaractors representing 65 Clubs spread all across the island of Sri Lanka not limited to the areas of Colombo, Galle, Jaffna, Kurunegala and Badulla. Rotaract 3220 includes community-based Clubs as well as institute-based Clubs rooted in public and private universities as well as the first corporate-based Rotaract Club in the world.

The year 2018 is significant for Rotaractors all over the world who are excited to celebrate the Golden Jubilee of the movement. Various Rotaract Districts have planned their own celebrations to commemorate what the movement has striven for during the past five decades: fellowship and service towards the community.

Rotaract 3220 is currently in the process of organising a celebration spread across three weekends in March placing equal focus on the four avenues of the movement with several phases in Colombo, Jaffna and Kandy culminating in a two-day carnival which will be held at Green Path on 24 and 25 March.

The first phase, to be held in Jaffna would include renovation of the J/ Keerimalai Naguleswara Maha Vidyalaya on 10 and 11 March, and the second phase in Kandy will comprise of a Community Service project focusing on maternal and child health culminating in a cultural event dedicated to the uniqueness of Sri Lankan culture.