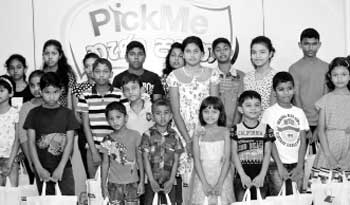 In keeping with their commitment to ensure welfare and wellbeing of the company's pool of drivers and their families, Sri Lanka's fastest growing tech start-up PickMe recently handed over school supplies to children of their top-performing drivers for the new school year through a CSR initiative called 'Nena Pahana'. 100 drivers recognised by the company were appreciated through this program.

Nena Pahana which took place on 27 and 28 December 2017 at PickMe Head Office mainly served as a gesture of appreciation by PickMe for the valuable service and support of the driver affiliate. The initiative was also a great moment for their children which showcased their parents' great work towards the company and inspired them to pursue their studies in the New Year with more enthusiasm.

Speaking at the event, Pickme Manager – Driver Operations Nishad Owitaarachchi said: "We believe our single biggest asset is our pool of driver affiliates. Through programs like 'Nena Pahana', we want to recognise them and their family members for their great contribution. We have drivers from all over the country, from different religious and ethnicities, coming together as one family to work for a home-grown company that is not merely focussed on the bottom-line but also cares a great deal about the wellbeing of all its stakeholders – from drivers to investors and customers. We hope to carry programs of similar nature in the future as well, to recognise and encourage our driver affiliates."

As the software platform that hosts the largest organised taxi fleet in Sri Lanka with over twelve thousand three-wheelers, mini cars, cars, vans and luxury sedans, PickMe currently services the transportation needs of over one million passengers based in the Colombo, Negombo, Kalutara and Kandy regions. Adding to its portfolio of services, PickMe also provides corporate travelling solutions to businesses and organisations with the PickMe Business Portal, the benefits of which is currently enjoyed by over 150 corporates in the country.