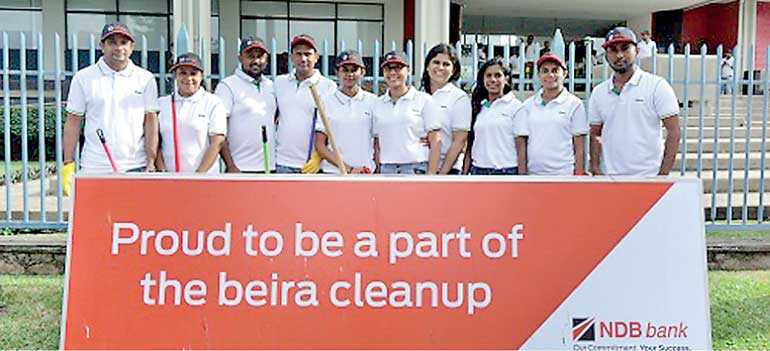 A clean-up campaign titled 'No Kunu' launched to clean up the banks of Colombo's Beira Lake took place with the assistance of NDB Bank and other businesses and institutions surrounding the area.

Speaking of the 'No Kunu' campaign, NDB Senior Manager of Corporate Sustainability Sharon De Silva said, "As a responsible corporate citizen we at NDB believe that the responsibility for conserving the environment and the society lies with each individual and we are happy to join the 'NoKunu' Campaign to keep our city and nation clean. With almost 100 volunteers from NDB joining the effort to clean the Beira lake, our vision is that this important initiative launched by the 'NoKunu Team' will continue to gather momentum ushering in a new era where sustainability will become a lifestyle for all our citizens."

Furthermore, she added, "The population of the planet is growing and, correspondingly, the amount of waste is increasing and this has a direct impact on the environment. If we don't act now to mitigate this 'waste' issue it can pose a serious threat."

The Beira Lake, which was built by the Portuguese during the 16th century, was the focus of the No Kunu initiative where over 100 volunteers from the bank, along with their Group CEO Dimantha Seneviratne cleaned designated parts of the canal banks.

Several relevant government authorities such as the Presidential Secretariat, Colombo Municipal Council (CMC), Urban Development Authority (UDA), Sri Lanka Land Reclamation and Development Corporation (SLRDC), the Sri Lanka Navy, Ports Authority and the Police also lent their assistance to the volunteers.

While the banks of the Lake were cleaned by the volunteers with the support of CMC officials, No Kunu team members, Navy and Environment Police officers, the water surface of the canals and the lake was cleaned by the Navy and the SLDRC.

NDB has made considerable strides towards the Sri Lankan banking and finance sector, expanding and evolving a range of products and services accessible through its growing branch network. Further details on NDB's many products can be obtained from its 24 hour Call Centre, by calling 011 244 8888 or by visiting NDB Bank's website on www.ndbbank.com.