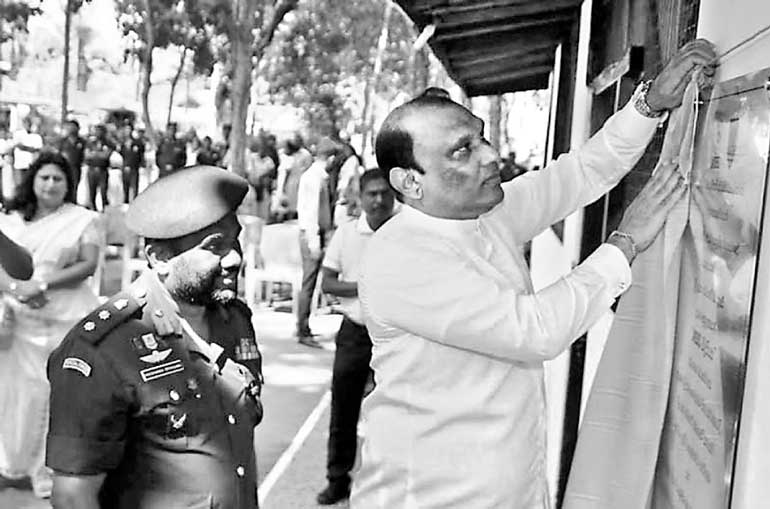 MBSL Chairman Dr. Sujeewa Lokuhewa unveiling the plaque to mark the opening of the 'MBSL Vidupiyasa' Computer Centre at the Thunkama Sri Gunanandarama Viharaya at Embilipitiya recently

while looking on is Air Mobile Brigade of the Sri Lanka Army (SLA) Brigade Commander Col. Nissanka Eriyagama
Merchant Bank of Sri Lanka & Finance PLC (MBSL) has launched a new project by the name of 'Vidupyasa' to assist rural communities, especially the young and the youth to enhance their IT literacy. The first 'Vidupiyasa' Centre was declared open in Thunkama Sri Gunanandarama Viharaya at Embilipitiya by the Chairman of Merchant Bank of Sri Lanka and Colonel Nissanka Eriyagama, the Brigade Commander of Sri Lanka Army Air Mobile Brigade. The Air Mobile Brigade based in Embilipitiya partnered with MBSL to develop the Vidupiyasa centre at Thunkama Sri Gunanandarama Viharaya at Embilipitiya.

Expressing his thoughts at the ceremony to inaugurate the 'MBSL Vidupiyasa' Computer Centre at Embilipitiya, MBSL Chairman Dr. Sujeewa Lokuhewa said: "The country is now being guided along a path of economic development. In such a positive backdrop, children who will one day take over Sri Lanka's future should be armed with a sound knowledge of information technology. To achieve this goal, it is imperative to ensure that they have access to modern information technology facilities. That was why we took steps to build a laboratory with modern computer systems at Thunkama a backward, far-flung village off the Embilipitiya town."

Continuing, Dr. Sujeewa Lokuhewa further said: "I take this opportunity to express my gratitude to the Army's Air Mobile Brigade for partnering with us to make this community service project a reality. It was with deep commitment and dedication that they supported us in many ways to take this initiative forward and ensure its successful completion. We consider it a privilege that children will be able to acquire knowledge on modern information technology from the temple itself, which is the focal point of learning and guidance in the village to lead a virtuous life. MBSL is not driven solely on the basis of making profits. We go beyond the objective of focusing merely on a bottom-line by initiating various projects to make a significant contribution to the society we live in for the greater good of the country at large. We are optimistic of opening more modern computer centres on similar lines in the near future."

Established in 1982, the Merchant Bank of Sri Lanka was quoted as a public listed company on the Colombo Stock Exchange in 1991. Since 2015, MBSL continues to function as a registered financial institution under the name "Merchant Bank of Sri Lanka and Finance PLC", in terms of the Financial Business Act No. 42 of 2011 of the Monetary Board of Central Bank of Sri Lanka. At present, MBSL, which functions as a highly successful leading pioneer in Sri Lanka's investment and merchant banking sector, offer customers a wide range of products such as leasing facilities, corporate and retail credit to small and medium scale industries and business enterprises, pawning services and property sales, corporate advisory and capital market, stock market brokerage, savings and children's accounts and fixed deposits. With a 74% stake, the biggest shareholder of MBSL is the Bank of Ceylon, the giant state-run banking institution in the country. MBSL has 48 branches and business places across the country.