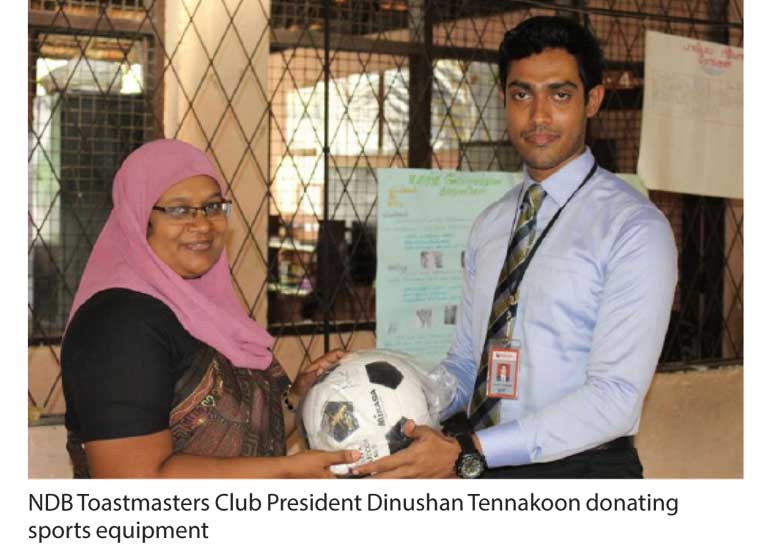 NDB Toastmasters club is committed in building tomorrow's leaders by providing the opportunity for the staff members to develop their public speaking ability while bringing out their leadership skills. In keeping with this commitment, NDB Toastmasters club in collaboration with the NDB Human Resources Department have initiated many workshops and projects such as Back to Stage Children's Workshop, NDB Best Speaker Contest, Speechcraft Programs, and Regional Model Toastmasters Meetings, etc.

In line with its Corporate Social Responsibility, Members of NDB Toastmasters Club carried out a CSR initiative by donating sports items to the Tamil Methodist College, Colombo 3, on 21 June, at a ceremony organised by its school principal, teachers and students.

With this donation the club members intends to provide better facilities/equipment for the school students in order to enhance their sports skills and extra-curricular activities.

In collaboration with NDB Nawam Mawatha Branch, contributions were made to open minor savings accounts for students in Grades 9 to 11 where the passbooks were handed over to the students at the ceremony held. This was initiated with the objective of inculcating the practice of saving in the minds of the younger generation.

Furthermore members of NDB Toastmasters club also conducted a short presentation on the importance of effective communication being in line with the Toastmasters vision in creating future leaders.

NDB remains dedicated to bringing its customers one step closer to accomplishing their lifelong ambitions and uplifting their standards of living through the range of services that is accessible through its growing branch network. Further details on NDB's many products can be obtained from its 24-hour Call Centre, by calling 011 2 448 888 or by visiting NDB Bank's website on www.ndbbank.com.