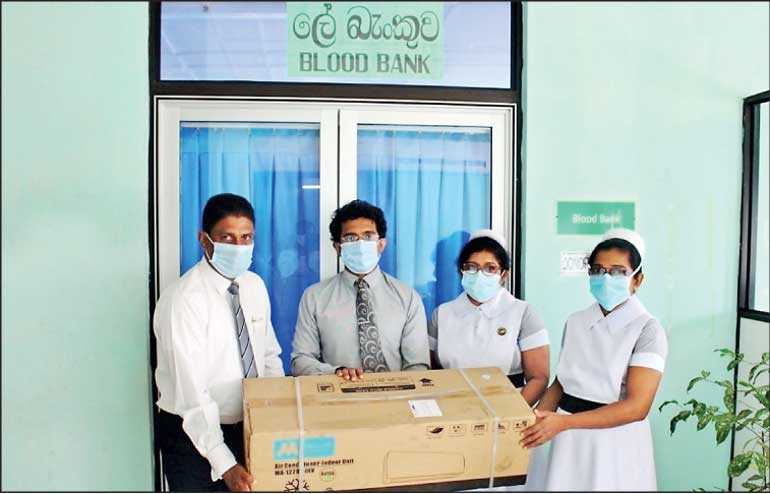 In a move to support fighting the COVID-19 pandemic, Mans Lanka Ltd. recently donated two air conditioners to the Blood Bank of the Homagama Base Hospital.

This donation was done upon a request made by the hospital from Macksons Group Managing Director Mizver Makeen.

Homagama Base Hospital in one of the hospitals specially reserved for COVID-19 infected patients.

Dr. Sujith Wijesundara, Medical Officer in Charge of the blood bank, said this donation is particularly important as it was made while 5S quality management is being introduced to the hospital.

"Also it should be appreciated as a donation made to a hospital dedicated to fighting novel coronavirus," he added.

Mans Lanka is a subsidiary of Macksons Group, a proud business conglomerate in the island. The top management of the Macksons Group including Milfer Makeen (Chairman), Mizver Makeen (Group MD) and Shimmer Milfer (Group CEO) expressed their pleasure in contributing this way to the national campaign against the COVID-19 pandemic.

Mans Lanka GM Ranjan Liyanage also took part in this event. Macksons Group has earned customers' trust and loyalty as importers and distributors of internationally reputed machinery and equipment. Also they are known for local products. Mans Lanka is a popular one-stop-shop for various equipment ranging from nuts and bolts to heavy machinery. Mans Lanka imports and distributes all types of building materials and construction machinery.