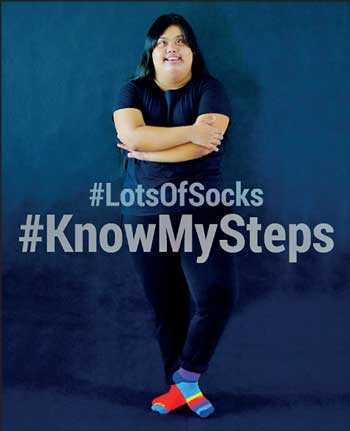 What do Down syndrome and socks have in common? It seems like the most unlikely comparison, but in reality they have one common "thread".

People with Down syndrome have an extra chromosome, meaning they've got 47 to make them extra special. If you look closely enough chromosomes look rather like socks and that's one of the reasons why MAZE is partnering with Down Syndrome International and their global #LotsOfSocks campaign to create awareness this year.

World Down Syndrome Day (WDSD) falls on 21 March and is a global awareness day that has been officially observed by the United Nations since 2012. On this day, everyone supporting the cause and wanting to create awareness wears mismatched socks in solidarity with those with Down syndrome and their families. This date, 3-21 also represents the three copies of chromosome 21, unique to people with Down syndrome (DS). The mismatching comes into play to celebrate differences and understanding that differences are what make us individually great.

The MAZE #KnowMySteps campaign features a talented, young dancer who is taking the campaign to the next level with her dance routines and asking everyone out there on TikTok and other digital platforms to try and follow her moves. The key is to be seen wearing mismatched socks in your video. The challenge can be done individually or with friends, pets, family, co-workers or just about anyone. The aim is to show the world the many talents of Down syndrome.

The campaign in Sri Lanka is endorsed by World Down Syndrome Day's global advocacy body, so don't forget to rock your mismatched socks on 21 March or before and support persons living with Down syndrome by using the hashtag #KnowMySteps. Make a difference, and change the world one dance at a time.

To upload your dance go to the TikTok link https://vm.tiktok.com/ZSJNk7JGD/ or simply inbox your video to the MAZE pages on Facebook or Instagram. You can also WhatsApp it to them on 077 066 MAZE, that's 077 066 6293.

MAZE is a rising local brand of high-quality socks, bringing the best of comfort and design together to make fun and comfortable fashion for your feet. Furthermore, since its inception each purchase of MAZE socks sees a donation towards the upkeep of Prithipura Communities, a charity providing loving homes for people living with disabilities in Sri Lanka. For more information, visit www.socks.lk or contact them through their social media platforms.