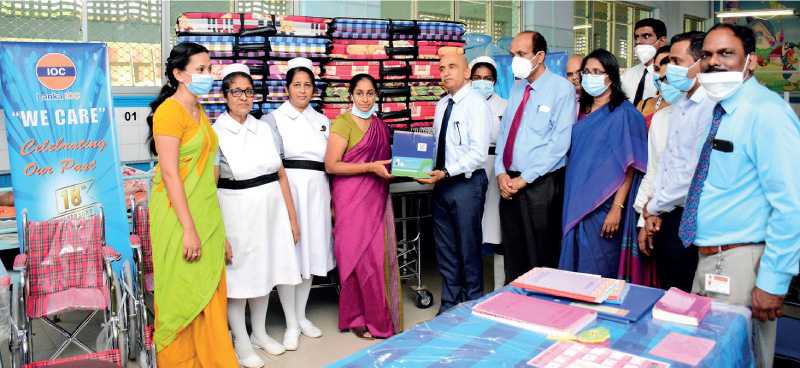 Dr. Jayathri Jagoda of Lady Ridgeway Hospital receiving aid from LIOC MD Manoj Gupta
---
Stepping up its commitment to giving back, Lanka IOC has been bolstering Corporate Social Responsibility activities by focusing on children's wellness and education. Recently, extending beyond the borders of its financial domain, Lanka IOC was associated with the development of society by way of partnering with hospitals and schools in and around Colombo.
Dr. Jayathri Jagoda of Lady Ridgeway Hospital has been highly appreciative of the efforts of Lanka IOC for the concern and the continued support since last year. Lanka IOC Managing Director Manoj Gupta donated wheelchairs, mattresses, and specially prepared trolleys to the disabled children undergoing treatment of Cerebral Palsy in the Rheumatology and Rehabilitation Ward of Lady Ridgeway Hospital.

Cerebral Palsy is a neurological condition caused by brain damage that affects a person's ability to move and maintain balance and posture. Cerebral Palsy is the term used for a group of non-progressive disorders of movements and posture caused by abnormal development of, or damage to, motor control centres of the brain. CP is caused by events before, during, or after birth. It is the most common physical disability in childhood.

During his address, Gupta conveyed that as a responsible corporate citizen, we should endeavour to provide therapeutic services for children with Cerebral Palsy to develop independence, confidence and self-esteem, and in doing so achieve their full potential. He further added that LIOC will continuously support children who will become leaders of the future generations to successfully grow as members of the society and consistently expand various corporate activities. He assured the hospital authorities of their continued regular assistance to the best possible extent for the noble cause.

Lanka IOC also donated peddle-push washbasins, thermometers and masks to eight schools to ensure hygiene and as a preventive measure for COVID-19 infections among school-going children.

Lanka IOC PLC, the only listed and one of the largest private sector companies engaged in marketing of petroleum products is contributing immensely for upliftment of society through its CSR initiatives and has always been steadfast in coming forward for discharging obligations towards the community.