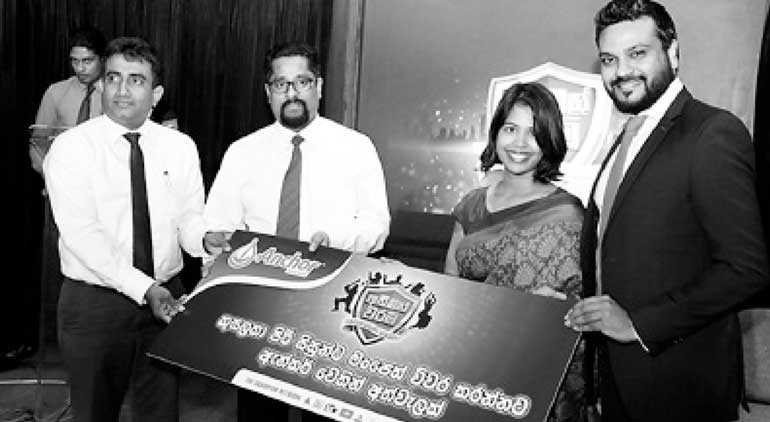 From left: News 1st Director Sales Roshan Watawala, News 1st Channel Head Suranga Senanayake, Fonterra Brands Sri Lanka Marketing Manager, Everyday Nutrition Shanika Jayawardene, Fonterra Brands Sri Lanka Director Customer Development Roshan de Silva
'Abhiman Varam' to enable talented students to realise their full potential
Almost one in five young people are unemployed, according to the survey filed by the Census and Statistics Department, despite widespread access to 'technical skills' or the appropriate academic qualifications for a profession.

Sri Lanka has always prioritised fostering academic excellence, placing it at the heart of developing the next generation. While students have access to various forms of technical skills and qualifications in the early stages of their careers, there is a vacuum in opportunities and guidance available for them to excel in fields they are passionate about, beyond academic excellence.

With this in mind, 'Abhiman Varam', an initiative co-created by The Champion Network and Fonterra's flagship Anchor brand, was officially launched on 1 July, to provide an opportunity to equip and encourage young talent with the type of thinking required to pursue their passions and achieve their potential.

Abhiman Varam will provide scholarships for 10 exceptionally talented students within 10 diverse categories representing all 25 districts – with a grand total of 250 scholarships being offered. Categories include education, innovation, leadership and management, entrepreneurship, sports, digital and ICT and technical knowledge.

An exciting program will front the island-wide campaign and provide a platform for talent to shine. Applications will open from 1 July, followed by a shortlisting process and evaluation. The ten scholarship winners will be linked up with masterclass workshops and leading government and private institutions relevant to support them in pursuing their passions.

Anchor, a trusted brand in Sri Lanka who has been nourishing Sri Lankans with the goodness of milk for over 40 years has partnered the MBC network and News 1st, to enable this initiative. In addition to being the program's main partner, Anchor's parent company Fonterra will also take a hands-on approach in leading a year-long mentorship programme by connecting a powerful array of professionals with the ten scholarship winners. The scholarship and access to mentors would provide these students with meaningful guidance, encouragement and the means to achieve excellence in the field they are passionate about.

Commenting on the collaboration, Fonterra Brands Sri Lanka Director, Customer Development Roshan De Silva said, "Through Anchor, a trusted brand that has nourished Sri Lankans for over 40 years, we have always believed in inspiring today's generation to champion their potential. In 2016, we launched Anchor's 'Goodness feeds greatness' movement to inspire Sri Lankans to realise their potential and achieve it. Last year, we conducted a similar program, 'Anchor students with talent' at a smaller scale and saw the potential of creating more goodness with initiatives such as these.

"We were excited to conceptualise an island-wide extension of this passion to enable and empower the youth. For example, the opportunity to enable the next big digital entrepreneur, inventor or performer from anywhere in Sri Lanka to achieve their potential and take our nation to newer heights is truly inspiring and that's what led us to co-create Abhiman Varam.

"This initiative, co-created with MBC and News 1st is a natural fit with our brand's purpose, and by leveraging our combined island wide capacity and dynamic task force, we're excited about the possibilities of enabling the youth at a truly grass root level," De Silva added.