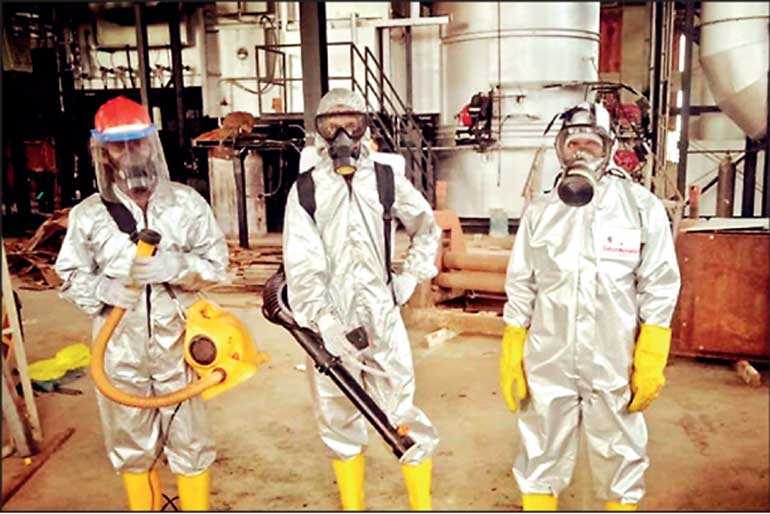 The Exterminators Ltd., Sri Lanka's premier and pioneer disinfection solutions provider disinfected government controlled COVID-19 quarantine centres which had reported positive COVID-19 cases, to fight the battle against COVID-19. Exterminators High-Risk COVID-Team executed the services adhering to all safety protocols.

As at 30 June, there hasn't been a single COVID-19 case reported at any of the places disinfected by Exterminators. Exterminators Founder/Managing Director Marlon Ferreira stated, "In this unprecedented situation due to the COVID-19 pandemic, we at the Exterminators strategically decided to be proactive and take on the battle against COVID-19 to help the community when they needed us the most. Under the 'Battle COVID 19' project we disinfected 71 elder's homes, 29 police stations, 13 religious institutes and South Asia's tallest tower 'Lotus Tower' and many public properties free of charge under 'Exterminators – Back to the community' initiative.

'Optimum Clean – Optimum Hygiene' we understand the importance of the health and wellbeing of your family, employees and community. We also understand the complexities prevailing with the COVID-19 pandemic in our country, we stand by to take on the battle against COVID-19 by providing specialised disinfection services for commercial and residential properties throughout the island."

Disinfection you can trust with so many misleading claims out there, you need a partner you can trust. 'Exterminators Optimum' uses a powerful but eco-friendly disinfectant approved by the WHO, EPA and CDE (USA), NEA (Singapore) and used in Canada, Japan, Australia, UK and the EU to disinfect against COVID-19. All high touch points such as desks, equipment, switches, door handles will be disinfected according to recent WHO guidelines related to disinfection using the wipe out method, larger floor areas, lifts, washrooms will be disinfected using the Novel Nebuliser/Atomiser to evenly distribute the disinfection.

Exterminators Nebuliser/Atomiser. The Ultra-Low Volume (ULV) Nebuliser/Atomiser creates droplets that can be dispersed into the air space. It generates a mist formed of ULV droplets between 5-50 microns in diameter which can float in the air for up to 10 minutes after application. The dispersal of these small micron droplets enables the disinfectant to evenly and thoroughly coat surfaces over large areas. ULV treatments can also treat any airborne pathogens present at the time of disinfection.

The novel ULV Nebuliser/Atomiser is used mainly for the application of disinfectants, biocides, fungicides and pesticides. Studies have shown that droplets of this size are ideal to tackle pathogens, vector carriers and other pests. Disinfectants that are corrosive, irritating or hazardous are not recommended for application. Pathogenic micro-organisms such as viruses, fungal spores and bacteria are the main cause of airborne or direct contact diseases affecting animals and humans.