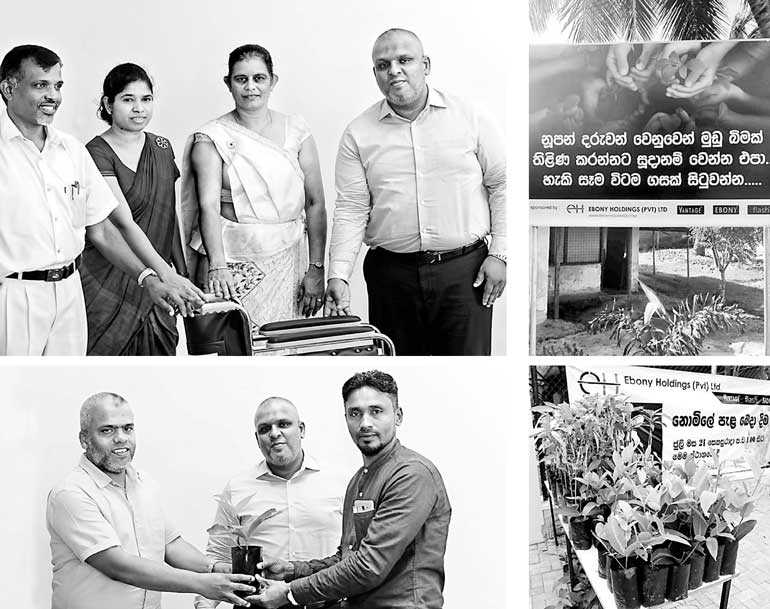 Ebony Holdings, a leader in men's fashion apparel in Sri Lanka, has successfully completed several social responsibility projects addressing numerous pressing social issues prevailing in the country. This series of CSR initiatives focused on community and environmental needs, healthcare including people with special needs, public awareness and education.

The series of CSR initiatives included plant donations, where the team donated valuable plants such as anoda, pomegranate, mango and jambu plants to general public. A wheelchair donation was held at Wariyapola District Hospital in parallel to the communication message boards and flags donation to Wariyapola Police Station. The message boards highlight the importance of environment conservation. Ebony Holdings staff and management were active participants for these initiatives as the company continued its book donations and sound systems as well to several schools in Wariyapola such as Mahakeliya Maha Vidyalaya and Sri Sumangala Maha Vidyalaya.

Commenting on the company's latest CSR initiative, Ebony Holdings Chairman Rasmy Raheem stated, "Ebony Holdings has always been a company that is focused on contributing towards the betterment of community and the environment. We always strive to be an exemplary presence in the industry and we are also committed to setting an example when it comes to being a responsible company. We have carefully chosen some of the most crucial community and environmental issues in our area and the general objective of these initiatives is to continue and grow with our commitment towards corporate social responsibility. We are delighted to constantly serve the society we live in and we hope to continue more CSR projects in the future in a sustainable manner."

Ebony Holdings is a leading local clothing supplier committed towards setting the latest trends in fashion in Sri Lanka through its comprehensive collection of high quality apparel. With over two decades in the business, the company currently occupies a leading position in Sri Lanka's fashion industry through its prestigious menswear brands Vantage, Ebony and Flash, all of which can be found island-wide.