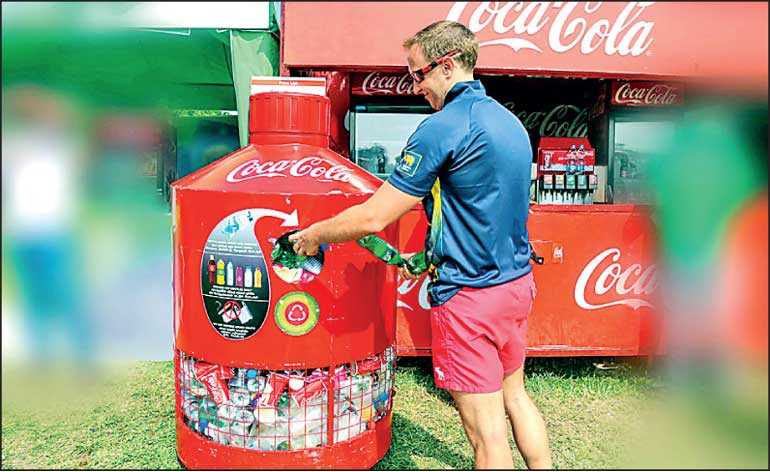 A responsible cricket fan supporting recycling efforts by disposing his PET plastic bottles into the 'Give Back Life'

collection bin
Coca-Cola Beverages Sri Lanka Ltd. recently completed yet another successful 'Give Back Life' campaign in partnership with Sri Lanka Cricket (SLC) and Eco Spindles Ltd., during the Sri Lanka-England cricket series which was held from 10 October to 27 November.

The 'Give Back Life' partnership with SLC continues to make a difference by collecting and recycling thousands of PET plastic bottles at cricket stadiums in Galle, Colombo, and Dambulla. 'Give Back Life' encourages people to give new life to their PET bottles through a recycling process by Eco Spindles that coverts them into clothing, shoes, brushes and brooms, thereby adding value by preserving our unique environment and creating new livelihoods.

With custom-designed PET bottle collection bins placed at these cricket stadiums, the Coca-Cola team oversaw the collection of approximately a total of 400kg of PET plastic bottles over the course of the nine matches. Clad in 'Give Back Life' t-shirts, the Coca-Cola staff on the grounds were actively involved in collecting used bottles while spreading the message and inspiring numerous spectators to join in.

Commenting on SLC partnering with Coca-Cola once again following the South Africa-Sri Lanka cricket series to recycle disposed PET plastic bottles, SLC Chief Operating Officer Jerome Jayaratne stated: "The highly anticipated Sri Lanka-England tournament this year, drew large crowds to our stadiums from far and wide. With Coca-Cola having always been a strong supporter and advocate of the sport of cricket in Sri Lanka, we are very pleased to have been able to join its efforts in recycling and waste management through the 'Give Back Life' campaign for PET plastic bottles. Since its inception, this island-wide campaign has continued to gain momentum and make a significant impact across the nation. It was very inspiring to see the cricket fans in and around the stadiums giving up a few moments of their time to pick up used bottles and dispose of them in a responsible manner. The Coca-Cola team certainly did an excellent job of spreading the 'Give Back Life' message among hundreds of cricket fans who were present during the series and we hope that they continue making strides with this far-reaching cause."

Coca-Cola Beverages Sri Lanka Ltd. Country Public Affairs, Communications and Sustainability Manager Lakshan Madurasinghe also commented: "Our second 'Give Back Life' campaign with SLC during the Sri Lanka-England cricket series yet again proved to be a successful effort and we hope that it took us one step closer to creating the habit for every Sri Lanka to dispose their waste appropriately to better serve the country. This partnership with SLC and Eco Spindles enabled us to inspire numerous cricket fans across the island to rethink the way they handle waste and understand the tangible value of their used PET plastic bottles. Through more and more dynamic partnerships such as this, we hope to continue making a positive impact, one PET plastic bottle at a time."

Coca-Cola has continued to build on its partnerships with various local government authorities, civil society groups, NGOs and corporates, leveraging them to provide robust PET recovery solutions across the island. Through its multi-stakeholder, volunteer clean-ups and collection programmes, the 'Give Back Life' campaign also drives community mobilisation. Coca-Cola continues its plans to work with a host of partners in the coming years to deliver Coca-Cola's 'World Without Waste' packaging vision, which includes collecting and recycling a bottle for every one it sells by 2030.