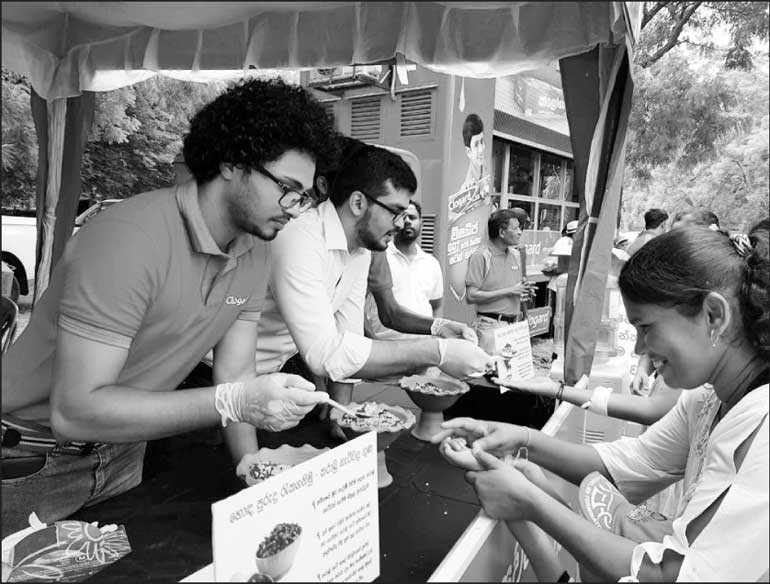 Commemorating Poson Poya, Clogard, the flagship toothpaste brand of Hemas Manufacturing, conducted a host of activities for the 13th consecutive year enriching the thoughts and minds of thousands of devotees who had gathered at Mihintale.

Continuously helping pilgrims who devoutly make the annual journey to the revered site, Clogard as a much-loved and trusted brand, once again came forward for the 13th consecutive year in safeguarding pilgrims' oral health needs and increasing their levels of comfort.

Free dental check-ups and screenings were provided for devotees visiting Mihintale by the Clogard team through their mobile dental clinic. Pilgrims also received the Clogard toothpaste sample which consists of goodness of clove oil to maintain oral care protection throughout their holy journey.

Understanding problems arising from limited freshwater supplies to the area, Clogard also distributed fresh water through dispensers, setup at the location guaranteeing the pilgrims had access to safe and clean water during their pilgrimage.

Gatha cards with religious prayer materials were provided to the pilgrims by Clogard supporting them in their religious activities.

Additionally, Clogard dispensed its clove-based herbal mouth freshening mix containing the goodness of cloves and other herbals ensuring pilgrims were engulfed with fresh breath and confidence during their journey in the sacred land of Mihintale. Clogard is firmly committed towards enriching the lives of its customers while staying true in preserving the nation's local culture and heritage. Steeped in this legacy, Clogard continues to offer products which use trusted traditional ingredients that consumers can truly trust.

Commenting on undertaking activities at Mihintale once again, Hemas Manufacturing General Manager – Marketing Derrick Antony said, "For the 13th consecutive year we have come forward during Poson to support all pilgrims visiting Mihintale. As a responsible brand we understand the importance of ensuring the well-being of pilgrims and in safeguarding their dental needs for more than a decade. In doing so we contribute through unceasingly working to increase awareness on oral health, while supporting the spiritual journey made by these pilgrims."

Clogard's firm pledge in continuing to support Mihintale pilgrims participating in activities abound with pure thoughts and words for the 13th consecutive year bears testament to the brand's deep understanding of both local consumer needs and culture, which lie at the heart of everything they do.