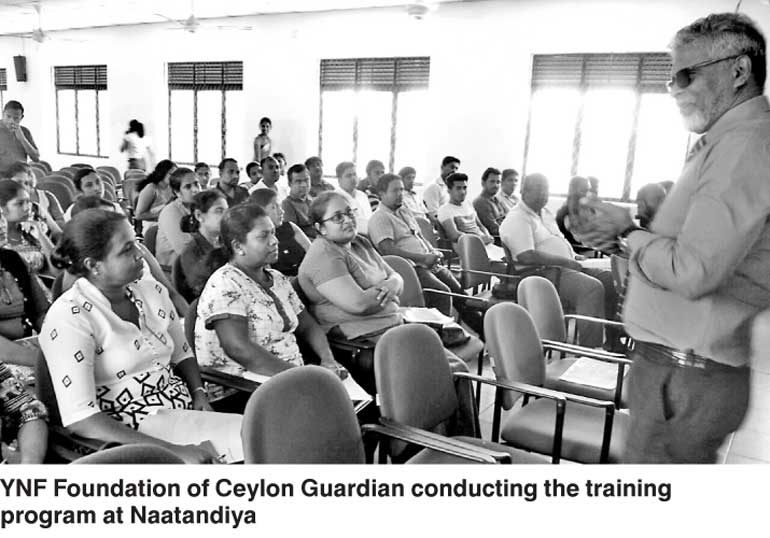 The Youth to Nation Foundation (YNF), the Corporate Social Responsibility arm of Ceylon Guardian, hosted a workshop on 'Strategies for Success for Small Businesses' at the Nattandiya Divisional Secretariat last month. The program was conducted by YNF in collaboration with the Federation of Associations of Small and Medium Enterprises of Sri Lanka and the Naattandiya Divisional Secretariat, to impart valuable training to youth entrepreneurs in the district.

Over 55 Small and Medium scale entrepreneurs from the Naatandiya, Wennappuwa, Mahawewa and Madampe divisions in the Puttalam district participated at the forum. They represented diverse industries including coir, batiks, garments, floriculture, food processing and more. The workshop focused on overcoming difficulties faced by entrepreneurs in the SME sector, and further discussed strategies to grow the business.

Since its inception in 2013, Ceylon Guardian's YNF has conducted over 12 such business and entrepreneurship programmes in the Southern and Sabaragamuwa provinces previously, as part of its vision to develop motivated and self-reliant youth to add value to society and the nation. Last month's workshop at Naatandiya was the first step to expand the programme to the North Western region of the country.

A veteran of Sri Lanka's asset management and investment sector, Ceylon Guardian is a subsidiary of the diversified conglomerate, Carson Cumberbatch PLC. Ceylon Guardian and its subsidiaries manage over Rs. 20 billion in assets including discretionary funds, private equity and unit trusts.