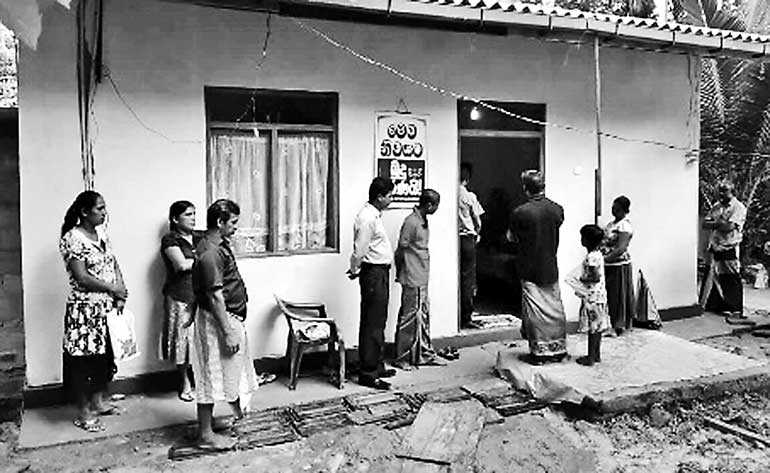 New house of Kumara Jayawansa
The southwestern monsoons in Sri Lanka resulted in severe flooding and landslides throughout the country in 2016, as well as in 2017. According to the Disaster Management Centre, a total of 717,622 people belonging to 184,265 families were affected with close to 300 deaths due to the 2017 floods and landslides. While 2,313 houses were destroyed, a further 12,529 houses were partially damaged as a result of the floods. Bulathsinhala, Palindanuwara and Ingiriya DS Divisions of Kalutara District were the worst affected areas with 187,883 people from 50,482 families in the district affected with 65 reported deaths. Therefore, the Ceylon Chamber of Commerce appealed for donations from members and well-wishers to help families affected in Bulathsinhala DS Divisions.

In response to the Chamber's appeal, the CCC Disaster Relief Fund received donations worth Rs. 2.3 million from member companies and well-wishers. The companies that made generous contributions towards this worthy cause include; Hemas Holdings Ltd., Finlays Colombo Ltd., Iluka Lanka Resources Ltd., Renuka Hotels Ltd. Renuka City Hotels, Trinushka Soysa and Mahen Dayananda, a past chairman of the Chamber. The Chamber also contributed Rs. 1.4 million for this worthy cause and decided to construct three houses for flood affected families, whose houses were completely destroyed during the floods. After careful review of various options available, the Chamber decided to assist three flood affected families in Bulathsinhala DS Division to construct new houses on lands belonging to them. The Government usually provides a model house of 575 square feet recommended by the National Building Research Organization (NBRO) to flood affected families. Therefore, the Chamber too decided to contribute Rs. 1,236,120 for each family to construct a house based on the model house of NBRO.

House warming ceremony at Inoka Udayangani's house


Bulathsinhala Divisional Secretary and the staff of Secretariat along with three Grama Seva Niladharis supported the three affected families to obtain necessary approvals from NBRO and relevant Government Agencies and closely monitored the construction of houses from laying of foundation until completion of construction. The Chamber staff after inspection of successful completion of each stage of construction released funds in three instalments to complete construction of houses in an uninterrupted manner.

The three fully completed houses were handed over to the respective families at a simple house warming ceremony with the participation of Chamber staff, Bulathsinhala Divisional Secretary, Secretariat Staff, GSN and Development Officers of respective DS Divisions and two representative of Iluka Lanka Resources Ltd. on 25 June.

The three beneficiary families include; 1. K.R. Inoka Udayangani of Ratiyala, Govinna, 2. Kumudu Saman Perera of Galahitiyawa, Malkawa and 3. L.A. Kumara Jayawansa of Udagalkanda, Delmalla. All three families have been living in small houses made from wattle and daub and wooden planks before the floods.

Inoka Udayangani was a widow with a young son and engaged in labour work for a living. Both Kumudu Saman as well as Kumara Jayawansa make a living by engaged in menial labour work and peeling of cinnamon. After their houses were fully damaged due to the floods, they were living in make-shift houses and temporary shelters provided by the Bulathsinhala DS. All three are young families with school children and having a permanent house was a dream come true for all three families. They were very happy and were highly thankful to the donors and the Chamber for giving them a solid foundation to lead a peaceful life and create a better future for their children.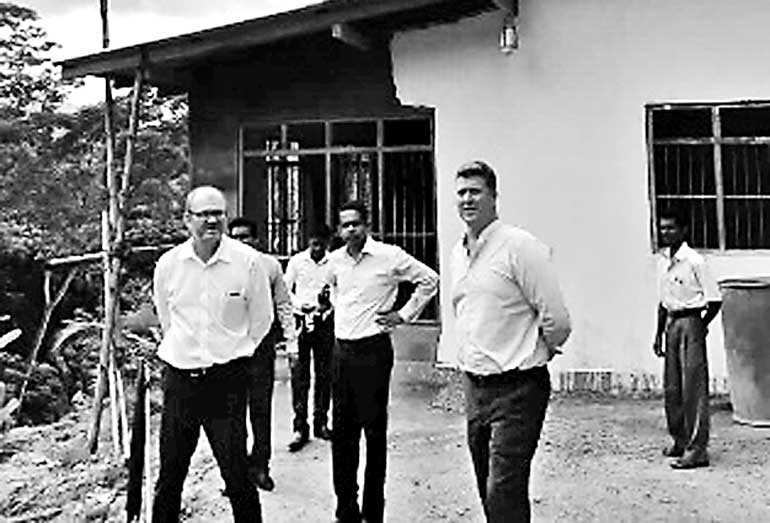 New house of Kumara Jayawansa
New house of Kumudu Saman