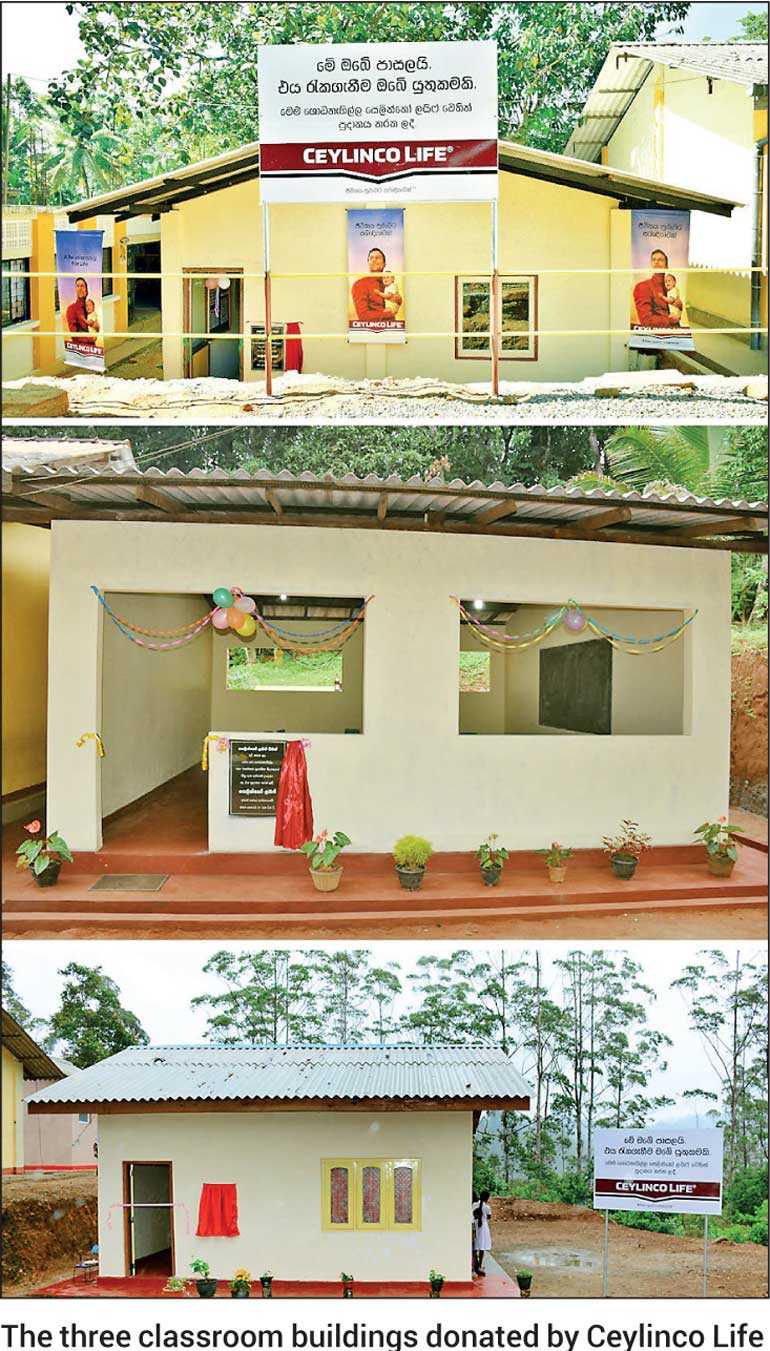 Ceylinco Life has built and donated three more classrooms to three rural schools in the hill country to facilitate learning and extracurricular activities of students, as part of one of the company's flagship community initiatives.

The Wettewa Primary School in Wettewa, Galagedara (Kandy District), Gambedda Vidyalaya in Rathkarawwa (Badulla District), and Laxapana Model Primary School in Hatton (Nuwara Eliya District) were the recipients of the 75th, 76th and 77th classroom buildings donated by the life insurance leader under its schools infrastructure project.

The first of this latest batch of beneficiary schools, the Gambedda Vidyalaya Rathkarawwa, has 160 students and seven teachers, and conducts classes from grades one to five. Until this new classroom was presented to the school, all classes were conducted in one main hall. Despite the hardships, the school was recognised by the Ministry of Education for its students' performance in the previous year's Year 5 scholarship examination.

In the service of educating students from Grade 1 to the GCE Ordinary, the Wettewa Primary School with 105 students and 15 teachers too had a shortage of space. The students here are musically inclined and have also won several dance competitions in the Uva region. The newly donated classroom will now serve as a dance class, although previously both dance and music lessons were held in one classroom, often forcing students to practice dancing under the shade of trees. Notably, this school is known for its track record of 80-90% of students passing their O/L and Year 5 scholarship examinations.

Converted from a carpentry workshop to a school, the Laxapana Model Primary School has 287 students and 17 teachers. Most classes here are conducted in community halls and under trees for Grades 1 to 5. The newly built classroom will now be used to teach Grade 3 students. Besides performing well at exams, many of the students school are also involved in scouting.

Commencing with a classroom built for the Tissa Primary School in Lunugamvehera in 2004, Ceylinco Life's schools infrastructure project has traversed the length and breadth of Sri Lanka, assisting schools in diverse locations such as Jaffna, Vavuniya, Trincomalee, Mutur, Batticaloa, Sittandy, Mollipatana, Ayithyamalai, Embilipitiya, Nivitigala, Beligala, Avissawella, Deniyaya, Kamburupitiya, Bandarawela, Haputale, Rambukkana, Kandy, Pilimatalawa, Madulkele, Rikillagaskada, Rajawella, Matale, Galgamuwa, Padaviya, Boraluwewa, Anuradhapura, Moneragala, Anamaduwa, Matugama, Kilinochchi, Mannar, Wellawaya and Talawa, Chilaw, Galagedara, Rathkarawwa, and Hatton.

Ceylinco Life defines its Corporate Social Responsibility as 'The continuing commitment of the Company to create a sustainable business environment even in the remotest areas of the country through meaningful interventions in areas such as healthcare and education for needy people, while providing protection and financial security of the highest quality.'

Besides contributing to the development of infrastructure in needy schools, the company also funds and coordinates a series of free medical camps across the country each year under its 'Waidya Hamuwa' (meet the doctor) program, and donates essential equipment and infrastructure to hospitals.

Adjudged Sri Lanka's Best Life Insurer in 2018 for the fifth consecutive year by World Finance, Ceylinco Life has been the market leader in Sri Lanka's life insurance industry for 15 of the 31 years it has been in operation. The Company has close to a million lives covered by active policies and is acknowledged as a benchmark in the local insurance industry for innovation, product research and development, customer service, professional development and corporate social responsibility.