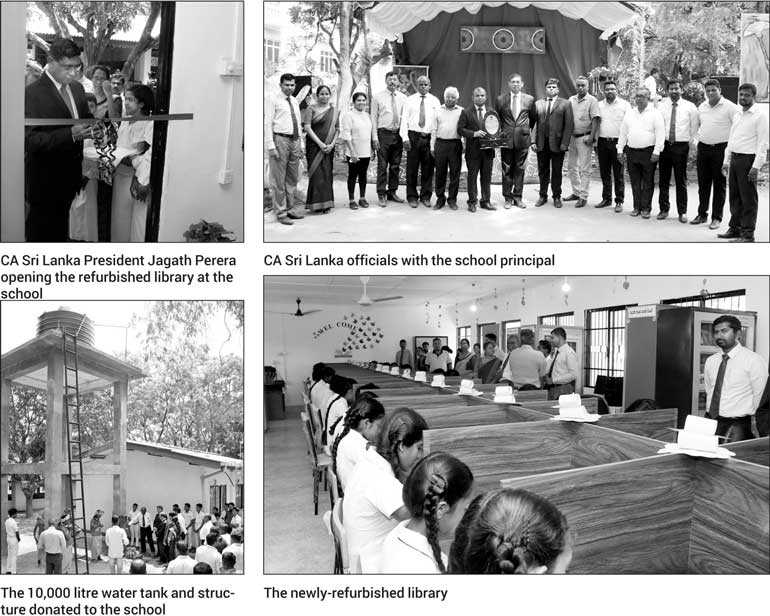 In keeping its commitment of making donations and contributions for national, public, educational and charitable purposes, the Institute of Chartered Accountants of Sri Lanka (CA Sri Lanka) extended assistance to a school in the Anuradhapura district.

The children and teachers together with parents of Galkiriyagama Madya Maha Vidyalaya located off Kekirawa in the district of Anuradhapura organised an event to commemorate the CSR project of CA Sri Lanka. The three-hour long ceremony was a colourful event with songs, dances, dramas, music and speeches of all grades of students.

Principal E.M.W.S.B. Ekanayake in his welcome speech said that his dream is to see students from the school become Chartered Accountants, as they are very capable students.

The CA Sri Lanka CSR project was to upgrade several facilities of the school which has a 700-student population. The project consisted of the refurbishment of the library, with CA Sri Lanka also donating a large library reference table which seats 36 students and book cupboards as well as reading materials including past papers and reference books for the students studying from Grade 6 to Grade 13.

CA Sri Lanka also constructed and facilitated a 10,000 litre water tank with the assistance of the National Water Supply and Drainage Board as the students lacked access to drinking water facilities. Further, desks, chairs and whiteboards were also donated to the classrooms.

The official handing over ceremony was held on 30 May. President Jagath Perera together with Council Member and CA Sri Lanka Member Relations Committee Chairman Sanjaya Bandara as well as members Dickson Jayasinghe, Saman Sri Lal, Jezeer Fazeer and few members of the staff were present at the handing over ceremony.

This project was a joint effort of CA Sri Lanka and its affiliations namely; Benevolent Society, Young Chartered Accountants Forum, Practicing Chartered Accountants Forum, Students Society, Staff Welfare Society and Overseas Chapters. Members of the Institute also extended their contribution by way of donations for the project.

The students expressed the difficulties that they undergo during their school and the accomplishments made by some of their schoolmates even under such difficult circumstances.

Jagath Perera appreciated the hospitality of the students, principal, staff and also the parents and explained that CA Sri Lanka's expectation is the gratitude of the students by way of becoming responsible citizens to the motherland and ultimately serve to the nation. Sanjaya Bandara while explaining the objective of the event advised the students to learn for the betterment of the life.