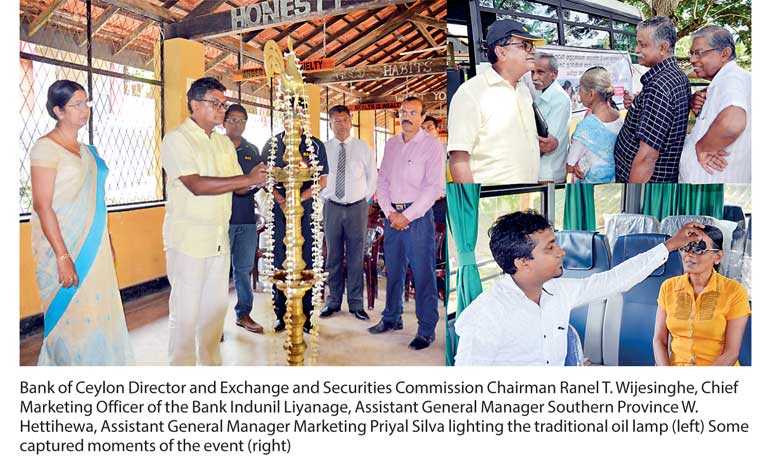 As a part of paying tribute to seniors in the country, the Bank of Ceylon joined with 'HelpAge' Sri Lanka, the Sri Lankan counterpart of HelpAge International, to assist senior citizens of Getamanna in the southern province by conducting a medical and eye camp.

This project was sponsored as a Corporate Social Responsibility (CSR) initiative to uplift social conditions and boost livelihood development under the Bank's Sustainability Policy; supporting the healthcare of the needy, with special reference to senior citizens, who have toiled away their youth and still assist unseen and unnoticed the economy, in every possible way they can.

By this initiative the bank together with HelpAge looks forward to provide some financial relief through providing much needed free medical/eye check-ups and provide spectacles for free. This program will be carried across all provinces at twelve selected locations in the future ensuring many more senior citizens the privilege of a better life which they deserve.

This event was held on 22 July with the patronage of Bank of Ceylon Director and Securities and Exchange Commission Chairman Ranel T. Wijesingha. The camp was organised by the bank's Assistant General Manager Southern Province Wasanthi Hettihewa and with the participation of Chief Marketing Officer Indunil Liyanage, Assistant General Manager Marketing Priyal Silva with their teams along with officials of HelpAge Sri Lanka.

Situated within the Beliatta divisional secretariat, Getamanna village was selected to hold the very first medical and eye check-up camp under this program. The program attracted over 200 senior citizens and many of them were directed for further examinations after preliminary check-ups. Identified patients who require eye sight corrections will be given spectacles for free once those specs are modified to suit their needs. Assistance of a Doctor from the nearest Government hospital was arranged and the camp was held at the Getamanna Wijaya National School. A team of medical professionals and the HelpAge's own fully equipped mobile vehicle specially designed to carry eye check-ups was also arranged at the camp. Later on, these identified patients will be directed to the nearest Government Hospital for treatment based on the results of their medical reports. Those identified with eye-cataracts will be directed for cataract surgery conducted by HelpAge at their own treatment centre in Wellawatta, Colombo, free of charge. The HelpAge Sri Lanka has also obtained the guidance from the Divisional Secretariat's officials/Grama Niladhari to organise this camp.