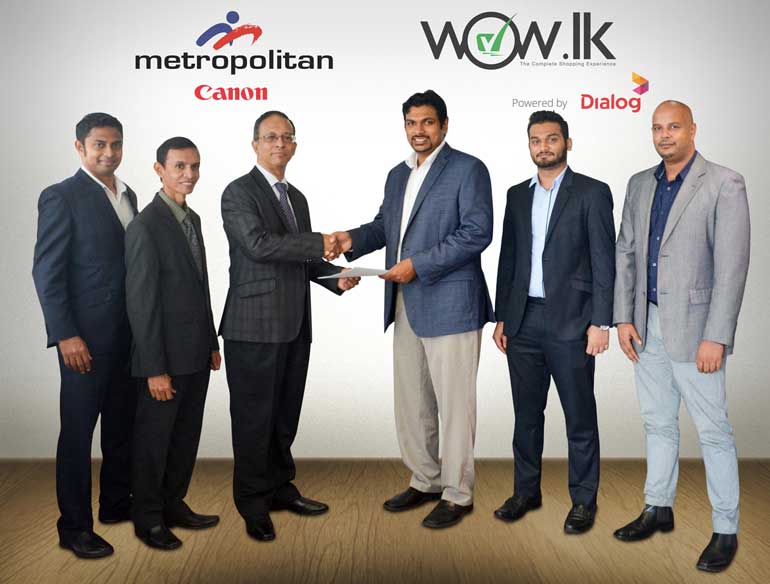 From left: Metropolitan PhotoHub Assistant Sales Manager Firzan Ali, Metropolitan PhotoHub General Manager Suresh Herath, Metropolitan PhotoHub Managing Director Taslim Rahaman, wOw.lk CEO Sheyantha Abeykoon, wOw.lk Head of Sales Ifzaal Iqbaal and wOw.lk Sales Manager Aqthab Shahabdeen
wOw.lk, Sri Lanka's largest online shopping mall, recently partnered with Metropolitan PhotoHub Ltd., as the official online reseller of Canon cameras in Sri Lanka.

Through this partnership, wOw.lk will be offering its customers discounts of 30%-40% on all Canon cameras and accessories that are featured on the wOw.lk website. As the exclusive online reseller of Canon in Sri Lanka, wOw.lk is the only e-commerce site in the country that is authorised to sell the full range of Canon cameras and accessories with an authorised agent warranty.

Canon's high performance range of DSLR cameras uses the best technology in the world to deliver, precision, quality and exceptional imagery, and helps professional and amateur photographers alike to capture moments and create memories with ease.

Canon Inc. is a Japanese multinational corporation that specialises in the manufacturing of imaging and optical products including cameras, camcorders, photocopiers, printers etc., and is a global leader in its category. Canon together with Metropolitan enjoy high market acceptance for digital cameras and is the undisputed market leader in Sri Lanka. wOw.lk will be offering Canon's extensive range of digital cameras and accessories online at the given discounted prices. Canon is widely acknowledged as one of the leading camera brands in the world and Metropolitan is the sole authorised distributor for Canon products in Sri Lanka.

Metropolitan has been active in Sri Lanka for five decades and has traditionally maintained a strong presence in the office automation, communications and information technology sectors. Metropolitan PhotoHub Ltd., a subsidiary of the Metropolitan group is renowned for offering a state-of-the-art range of photography equipment and accessories. The group delivers exceptional standards of service and continuously strives to deliver value to its customers.

Commenting on the partnership Metropolitan PhotoHub Ltd. Managing Director Taslim Rahaman stated, "wOw.lk is Sri Lanka's largest online shopping mall and has been a trailblazer in the e-commerce industry. By partnering with wOw.lk, we believe that we will be able to expand our customer reach and provide enhanced accessibility to our products amongst a wider segment of our target audience. Online shopping is becoming increasingly popular, and we are delighted to offer our range of products, alongside the many prestigious brands that are featured on wOw.lk. We hope that this partnership will enable photography enthusiasts across the country, to benefit from the convenient option of being able to shop online for a high quality camera."

Also commenting on the partnership, Sheyantha Abeykoon, Chief Executive Officer of Digital Commerce Lanka Ltd., the company that owns and operates wOw.lk stated, "We are very pleased to partner Metropolitan, a highly respected business entity that shares our own commitment to delivering excellence. The Canon brand of cameras is renowned for its high quality and is a popular choice for many photographers. Through this partnership, we will be able to offer this exceptional range of cameras and accessories on the wOw.lk website at the most affordable prices, ensuring that our customers benefit from high value for money and added convenience."

wOw.lk continuously evolves and initiates partnerships and special offers that meet the varied needs of the local online community. The website has been at the forefront of e-commerce innovation in Sri Lanka since its inception and continues to deliver a convenient virtual shopping experience to customers, providing them with a variety of affordable products and services. Backed by Dialog Axiata, Sri Lanka's largest telecommunications service provider, wOw.lk is now one of the largest and most reputed e-commerce sites in the country.