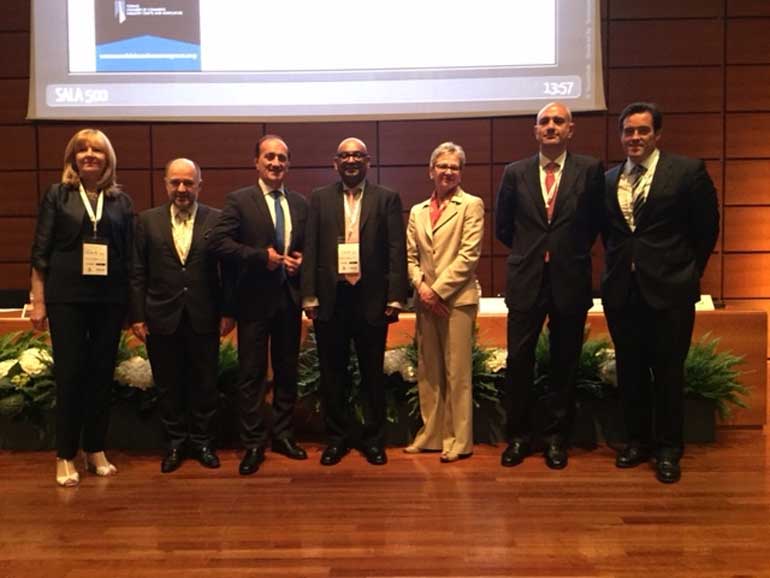 Banking With The Poor Network Chairman Chandula Abeywickrema flanked by key speakers at the 9th World Chambers Congress
The 9th World Chambers Congress (WCC) was held in Turin in Italy from 10 to 12 June, attracting over 1,000 delegates from business chambers and trade and industry associations from around the world.

Among the attendees for the Turino 2015 WCC were leaders from multinational and industrial businesses renowned for the success of their business ventures.


The key focus areas covered at the Turin congress which created significant value and interest amongst all the delegates were sessions on Global trade in the 21st Century, Access to finance for SMEs, Institutional dispute resolution, Trust in Government, Principles that power exceptional governance, Setting G20 business priorities, Global mobility, Youth entrepreneurship training, Business leadership on climate change adaptation and innovations and best practices and insights.

The central focus during the three days of sessions were identifying the needs of SMEs and the skills and know-how needed to support their businesses, fostering sustainable economic development and trade. The key session on finance for SMEs, spearheaded by Sri Lankan lead expert on Financial Inclusion, the Chairman of the Banking With The Poor Network, Chandula Abeywickrema.


The session focused on the need for SMEs to access new sources of finance. Abeywickrema's articulations were supported by other speakers, Charlotte Ruhe, Director of the European Bank for Reconstruction and Development, Baybars Altuntas, Vice President of the European Business Angel Network and Volker Treier, Deputy Chief Executive of the German Chambers of Commerce and Industry (DIHK). The session was moderated by Andrea Tormat, the President of the International Chamber of Commerce of Italy.

Abeywickrema's key points garnered the attention and appreciation of moderator Tormat as well as those of other speakers as well as the endorsement of a wide number of delegates who participated in the session.


The key points articulated in the speech were 'Capacity-building for sustainable enterprise creation through an inclusive SME strategy', 'Redefining micro, small and medium enterprise models for business sustainability', 'the role of the Business Chambers and Industry Association in making SMEs bank and finance ready', 'the partnership between SMEs and SMPs for business empowerment', 'the linkage to supply and value chains for business sustainability', 'Making financial services available, accessible and affordable to SMEs' and the 'Commercialisation of and graduation of SMEs'.