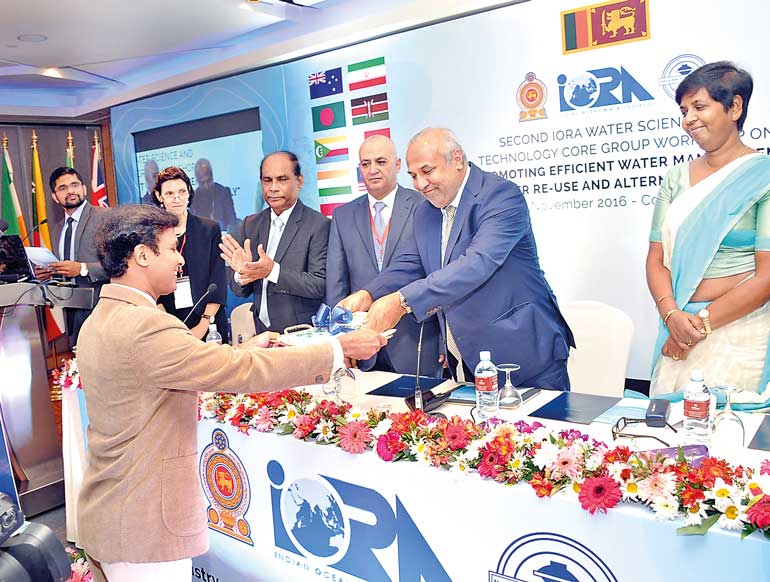 Minister of City Planning and Water Supply and SLMC leader Rauff Hakeem yesterday emphasised that water safety measures in times of disaster would be given priority and the country was on its way to achieving global benchmarks set for portable water supply and sanitation.

He made this observation at the inauguration of the second international workshop of the IORA Water Science and Technology Core Group on 'Promoting Efficient Water Management through Water Re-use and Alternative Water Supply', being held at Hilton Colombo Residences from 15-16 November.

"We have been able to put in place a water safety plan which ensures that the drinking water supply in times of disaster, and at other times, is adequately maintained," said the Minister. "We are quite confident that we can reach the benchmarks that have been set for countries to achieve the targets on potable water supply and sanitation well before the target date set in the sustainable development goals agenda," he added.

Minister Hakeem pointed out that Sri Lanka was not new to the concept of water management as the country boasts of irrigation practices that are around 2,000 years old.

"We have perfected the art of water management back in the days of our ancient monarchs. We have introduced the cascade irrigation system, which is thought to be a wonder going back so many years. "Over a period of time, our indigenous engineers have been able to develop sustainable water resources, and to look at issues relating to the pollution of our water sources, and adopt corrective methods. We have also, in the recent years, been able to put in place a water safety plan which ensures that drinking water supply in times of disaster, and at other times, are adequately maintained. And this has been an area where our ministry, as well as the national water supply and drainage board, have been focusing on," he said.

The IORA workshop is held under the patronage of the Ministry of City Planning and Water Supply. The key organisers are the Indian Ocean Rim Association (IORA), National Water Supply and Drainage Board (NWSDB) and the International Water Management Institute (IWMI).

Speaking further, Minister Hakeem said: "We are proud to be selected to host this event here mainly because we consider ourselves somewhat ahead of our neighbours in our efforts to provide the required quantity, quality and also in addressing the affordability and accessibility of water to the public. When it comes to sanitation, we are far ahead of our neighbours in providing proper sanitation facilities to almost 95% of our population. We have been commended for our achievements of the millennium development goals far ahead of its deadline," asserted Hakeem.

Dr. Sudarshani Fernandopulle - State Minister of City Planning and Water Supply; Hugh Graham Anderson - IORA Director; and N.D. Hettiarachchi - Secretary to the Ministry also spoke at the workshop. Representatives of 25 countries along with Sri Lankan experts in the field of water management are participating in the two-day international workshop.