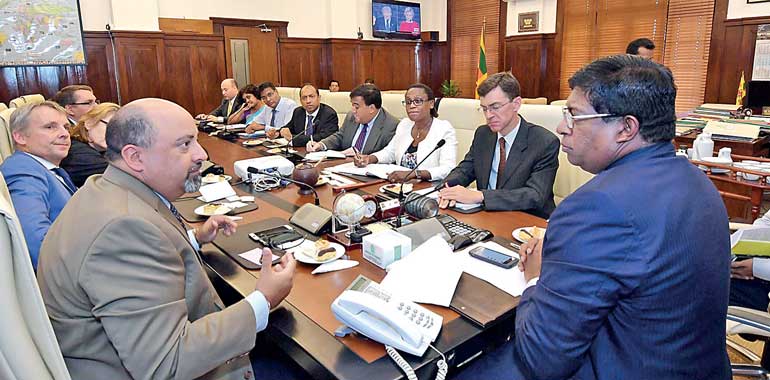 Several powerful countries officially announced today that they would extend their fullest cooperation to minimising Sri Lanka's debt burden, the Finance Ministry revealed.

Ambassadors and High Commissioners of the US, UK, Germany and France conveyed this message from their respective countries when they met Minister of Finance Ravi Karunanayake at the Ministry yesterday.

All of these four nations are preeminent members of the Organization for Economic Cooperation and Development, which was created to work for economic development and international trade in 1961. These nations are responsible for deciding loan interest rates on international borrowings.

The Finance Ministry said Sri Lanka's current overall debt is nearly Rs. 8,500 billion and 42% out of it is foreign debt. It added that attention was being paid to minimising the interest paid for this debt in order to ease the country's debt burden. Sri Lanka will also be unable to obtain loans on interest when it becomes a middle income level country in the near future. Having faced a 30-year war, Sri Lanka has already taken initial steps towards an economic surge. However, it had not launched essential development projects during the previous regime to achieve much needed economic growth, the Ministry stated.

Therefore, the current Government has already implemented a large number of development projects in order to uplift the lives of the people and the support of the international community is being sought to continue this development agenda until it reaches its set targets, according to the Finance Ministry.

Accordingly, the foreign missions in Sri Lanka were requested to issue recommendations to enable Sri Lanka to obtain relief loans at low interest from the World Bank during this meeting. Ambassadors and High Commissioners who agreed to the request by Sri Lanka stated that they would communicate this to the upper echelons of the World Bank through their country representatives.

World Bank country representative in Sri Lanka Dr. Idah Pswarayi Riddihough and Finance Ministry Secretary Dr. R.H.S. Samaratunga also participated in the meeting.