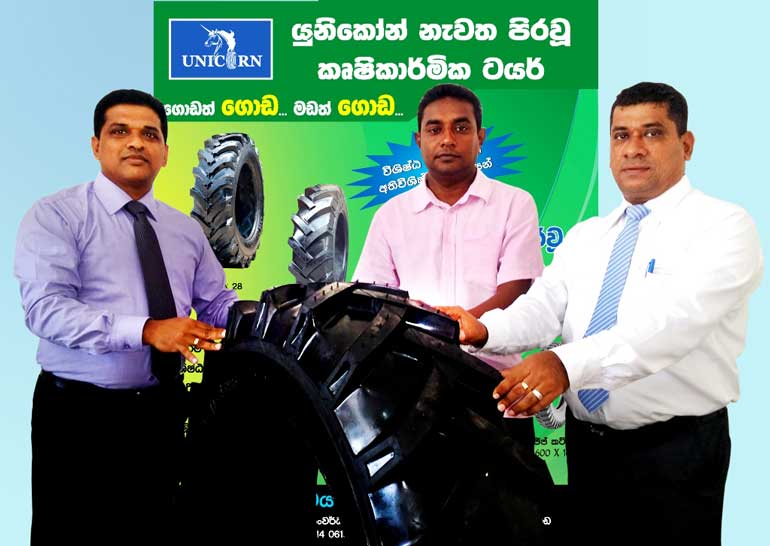 Unicorn Tyre Retread Ltd. in 2016 has introduced a range of rebuilt tyres to be used in agriculture. Rebuilding process of tyres in line with world standards was done at the company's state-of-the-art tyre rebuilding plants in Panaluwa, Watareka Industrial Zone.

These newest agricultural rebuilt tyres have an extra grip and enhanced lifespan. A special rubber compound is used in the rebuilding process to provide vehicles used in agriculture more safety and extra mileage capacity.

Unicorn's tyres enter the marketplace with the tagline, 'Providing an exceptional tyre with an unmatched service at an affordable price to customers'.

Unicorn tyres are manufactured to the patterns; 13x28 Lug 20, 11/12x28 Lug 17and 20, 500x12, 600x12, 600x16 three line grip and Jeep grip. Unicorn agricultural rebuilt tyres can be obtained from tyre outlets throughout the country.

Unicorn Tyre Retread Ltd. Managing Director Asanga Ratnayake, speaking at the occasion in which the newest range of agricultural rebuilt tyres were introduced said vehicle owners will derive their money's worth by using Unicorn tyres.

"Unicorn Company commenced its operations in the new year by launching a range of tyres to be used in agriculture that could reduce huge costs incurred by persons who are into agriculture. As a company we think facilitating people indulging in agriculture is a national service and we are proud to commence the year 2016 with such notion. Unicorn Company was commissioned in 2014 and it went from strength to strength there onwards. In a short period of time Unicorn was able to rub shoulders with the market leaders in the trade. We are thus motivated to offer more innovative products to our customers in the years to come," said Ratnayake.

The objective of forming Unicorn Retread Tyre Ltd. has been to offer a superior and long-lasting product benchmarking with newest global standards to local vehicle users and to offer tyre dealers the very first true alternative to the market leaders.