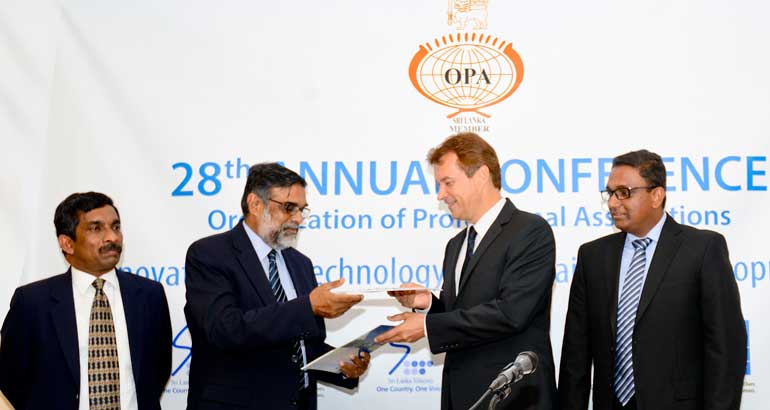 UNDP Country Director

Jorn Sorensen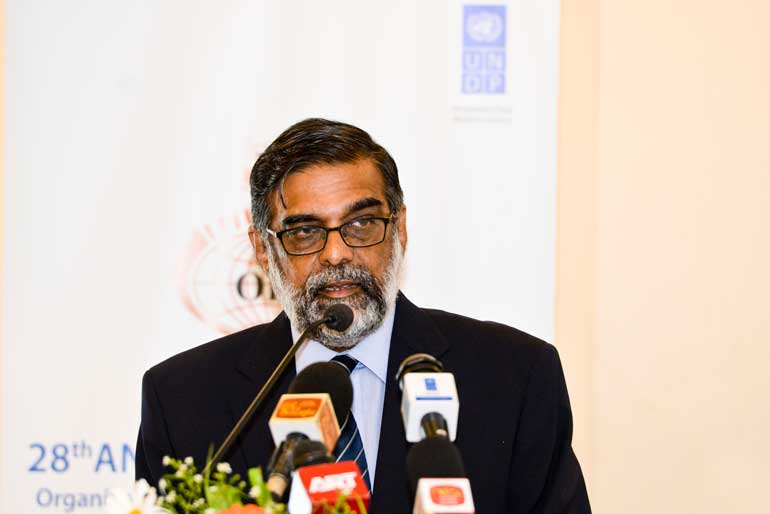 OPA President Elect

Prof. Rohana Kuruppu
Approaches to development have changed significantly in the 50 years since the United Nations Development Program (UNDP) began its operations in Sri Lanka and today it involves a whole new range of technologies to support service delivery and engage citizens, UNDP Country Director John Sorensen said yesterday.

Speaking at a press briefing to announce the upcoming 28th annual conference of the Organisation of Professional Associations (OPA) jointly organised with the UNDP, Sorensen said the UNDP is looking to partner with a wider sphere than the United Nations may have traditionally done.

"As we today live in a very volatile world, with uncertainty and unpredictability which makes development even more complex and challenging but also inter-connected," he said.

The UNDP signed a memorandum of understanding with the OPA to join the latter's upcoming annual conference titled 'Innovation and Technology for Sustainable Development' as its Innovations for Development Partner. The conference, organised by the OPA for the 28th consecutive year, will be held on 21 and 22 September at the Galadari Hotel, Colombo.

"Innovation is about empowering people and UNDP is embracing the innovations agenda and working towards integrating innovations in our programs," he said.

Sorensen expressed the UNDP's keenness to work with all parties at all levels in this regard, stating that the organisation was excited to partner with the OPA.

"Through this partnership, we hope together with the OPA to build a platform to discuss and maintain an important role of social innovation to achieve sustainable development goals and equity. Innovation is about empowering our own people. And with this we aim to reach a wider audience," he said.

The UNDP is keen on adopting new technologies in meeting development goals, he added.

"We believe that key innovations and civic engagement is very important going forward and employ new strategies and technologies in meeting our development goals. We see innovation not as an end in itself, we see it as a tool and as a way of using up to date concepts and means available to get the best development response," he said.

OPA President Elect Rohan Kuruppu, meanwhile, said the OPA looks forward to collaborating with the UNDP for future work on sustainable development and aims to produce a strategic plan for sustainable development for Sri Lanka.

"This should include a set of sustainable development goals as the outcome of this conference. This strategic partnership between UNDP and OPA would bring the disclosure on innovation to the forefront of the development agenda of the country, as the conference involves the participation of industry experts from a range of professions," he explained.

Elaborating on the topic of sustainable development, Kuruppu defined it as development that meets the needs of the present without compromising the ability of future generations to meet their own needs. Sustainable development describes in the simplest way a long term strategy that includes economy, society and environmental resources. Today's understanding of sustainable development must include a balance of economic and social aspects, he added.

The conference is scheduled to be inaugurated by President Maithripala Sirisena, the technical sessions of which will commence on 22 September. Sessions held will include those on agriculture, industry and services. All presentations will focus on sustainable development. The panel discussion will be moderated by Professor A.V.D.S. Indraratne.
Pix by Daminda

Harsha Perera