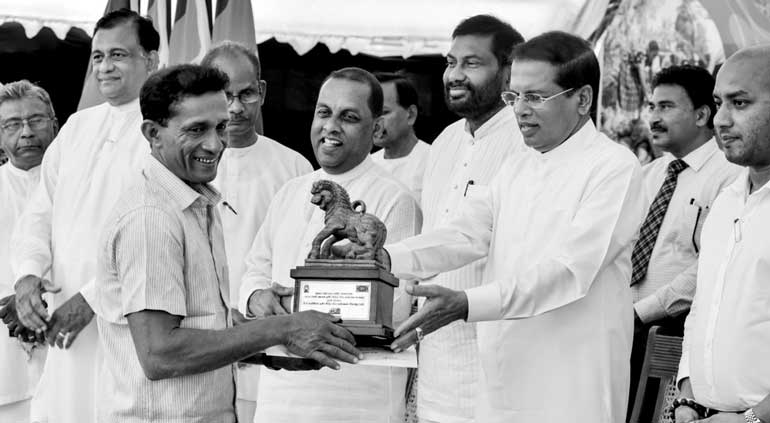 Renovation of 25 irrigation tanks have been completed this year in the Trincomalee District alone, according to President Maithripala Sirsisena, under the Government's initiative to build an agricultural economy by bringing back Sri Lanka's irrigational heritage.

The President was speaking at a ceremony held recently near the historic Kantale Reservoir to appraise excellence in 2016 of the Local Food Production Program.

He said these 25 tanks were renovated at a cost of Rs. 200 million which was allocated through the Presidential Secretariat from the 'Sirisara Pivisuma' district program, totalling Rs. 5 billion, initiated under a three-year plan to renovate tanks, develop roads, put up elephant fences and to develop health and education in the Trincomalee District.

Under this initiative, 500 small tanks were to be renovated in the Trincomalee District. The renovation work is done through the Ellangava tank network, a historic irrigation system which had been built in a way not to waste rain water that flows to the tank.

The President also paid a visit to the renovated Gan Thalava Unit – 12 Tank that was renovated at a cost of Rs. 23 million. The renovation work was done with contributions from people of the area, farmer unions, farmer leaders and members of the tri-forces.

Sirisena unveiled the plaque, declaring the tank open to the public. He handed over tractors, bowsers and cabs to the Engineering Force of the Sri Lanka Army to be used for the 'Sirisara Pivisuma' District Program.

"When we consider the prosperous eras of this country, we realise that Sri Lanka can be developed through an economy based on agriculture. To do it, we should help farmers to build better economic conditions. We should produce as many imported items as possible within our country. The current Government is giving priority to that," he said.

The President said the Moragahakanda Project, which aims to renovate more than 700 tanks in Trincomalee and the North Western Province will provide a permanent solution to the drinking water issue. "It will also provide a permanent solution to the drinking water issue of the people living in Kantale," he said.

Under the concept of food safety and sustainable agricultural practices as promised in the 'A Compassionate Governance – A Stable Country' section of the election manifesto, the President presented awards to 48 farmers, felicitating their great service for the promotion of local food production.

Accordingly, 17 farmers received their awards from the President.

These awards were presented under the three categories of Agriculture, Animal Husbandry and Fisheries. When selecting these farmers, attention was paid to the use of advanced technology and modern farming techniques, production of carbonic fertilizer, minimising the use of chemical fertilizers.

Ministers Mahinda Amaraweera, Duminda Disanayake, Daya Gamage, Deputy Minister Ameer Ali, Governor of Eastern Province Rohitha Bogollagama, Eastern Provincial Council Members Ariyawathi Galappaththi, Priyantha Pathirana, SLFP Seruwila District Organiser Nalin Gunawardena, Army Commander Lieutenant General Mahesh Senanayake, Former Secretary to the President P. B. Abeykhoon also took part in the event.