Michel Nugawela introduced 'Leadership Archetyping' at a VIP CEO Breakfast Forum on 25 May.

The forum introduced business owners, CEOs and political leaders to the 12 archetypal dimensions of leadership transformation, each with its own motivational needs and archetypal storyline or perspective.

The 12 archetypes - Innocent, Orphan, Warrior, Caregiver, Explorer, Lover, Destroyer, Creator, Ruler, Magician, Sage and Jester – reflect the various roles that leaders can play in organisations by putting a human face to the attitudes, interactions and behavioural patterns that are correlated with success and thereby influence their effectiveness.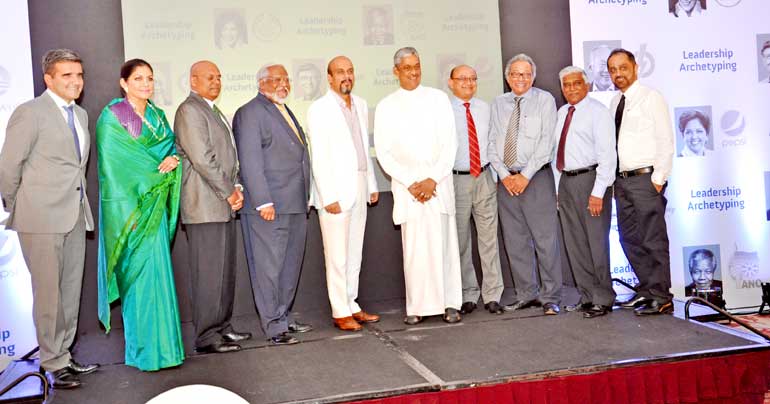 From left: CTC Plc Managing Director Felicio Ferraz; State Minister for Child Welfare Rosy Senanayake; Ceylon Chamber of Commerce Chairman Suresh Shah; EU Parliamentarian Niranjan Deva Aditiya; Michel Nugawela; Field Marshal Sarath Fonseka; MAS Holdings Director Ajay Amalean; Sri Lankan Airlines Chairman Ajith Dias; Deshamanya Deva Rodrigo and Expolanka Holdings Plc Group Managing Director Hanif Yousuf - Pic by Lasantha Kumara


The 12 archetypes are further divided into three sets of four, namely Ego, Soul and Self, with the archetypes in each set sharing a common psychological driving source and storyline which influences how leaders see, act or experience the life patterns, opportunities and challenges that they face in their executive role. The Ego or conscious archetypes – Innocent, Orphan, Warrior and Caregiver – relate to the preparation of our individuation in life.

The Soul archetypes relate to the individuation process itself and include the Explorer, Lover, Destroyer, and Creator. The Self archetypes – the Ruler, Magician, Sage and Jester – relate to the fullest expression of our potential in life. Taken together, these archetypes provide a holistic view of individual and organisational transformation. Nugawela then explained how leaders could use the resources, skills and tools from each archetype to show up more fully in their work and organisations.

"Leaders will be able to notice when an archetype is active or inactive by observing language, emotions and behaviours in themselves and others."

Nugawela has over two decades of senior level corporate consulting in brand strategy and identity development with related specialisation in change strategies across newly rebranded or repositioned organisations.

The forum also examined how archetypes manifest in societies and countries.

"America is the archetypal Explorer nation," said Nugawela. "For centuries, people have migrated to the country in search of a more prosperous life for themselves and their children."

But America in the post-9/11 world has also expressed the Warrior archetype as it became embroiled in war and conflict in Afghanistan and Iraq. In the same way, during the past 30 years of civil war, Sri Lanka has experienced the Destroyer archetype, which has left many people Orphaned and led to strong Warriors commanding power and control in our society. The election this January brought Maithripala Sirisena, a Ruler-Caregiver, and Ranil Wickremesinghe, a Ruler-Sage, into power. It remains to be seen if both these leaders can be the Magicians who transform our country for the better, Nugawela said.

Also associated with the launch were Niranjan Deva Aditiya, Conservative Member of the European Parliament for South East England, and Suresh Shah, Chairman, Ceylon Chamber of Commerce, both of whom addressed the gathering. Amongst those in attendance were Field Marshal Sarath Fonseka, Finance Minister Ravi Karunanayake, and Child Affairs Minister Rosy Senanayake.

A host of business leaders and professionals were also present.