In November 2015, The Sri Lanka - China Business Council of the Ceylon Chamber of Commerce achieved a major milestone in its journey to date, when the council organised its first ever Trade & Investment mission to three primary destinations in China's three major provinces. A group of council members, representing industries from Gems and Jewellery, Logistics, Leisure, Property development, Project management, Personal care & Cosmetics, Tea & Rubber, Ceramic-ware, Agriculture mechanisation, Fisheries and Construction took part in the mission, visiting Gunagzhou, Qingdao and Hangzhou. The mission was coordinated by the Sri Lanka – China Business council of the Ceylon Chamber of Commerce with support from the Commerce section of the Embassy of the People's Republic of China in Colombo and the China Chamber of Commerce in Sri Lanka.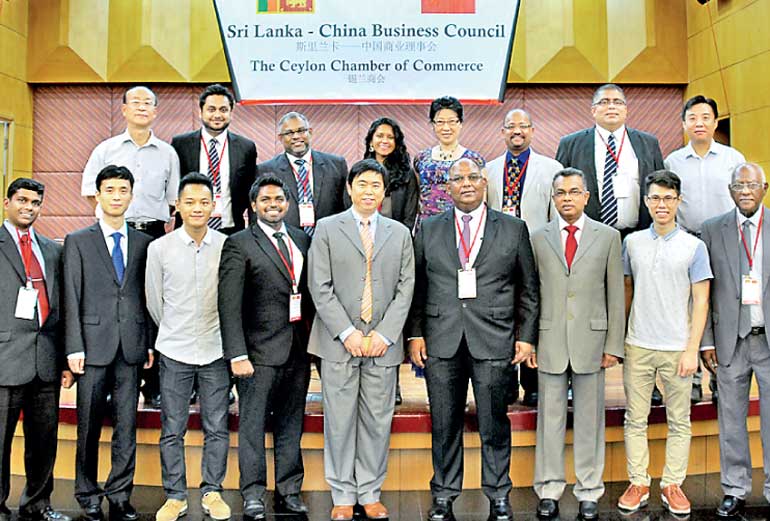 In China, the respective Commerce ministries and the China Council for the Promotion of International Trade (CCPIT's) organised forums for discussions and presentations to showcase the opportunities available to Chinese businessmen, for both investment and trade in Sri Lanka. In addition, the highlights of the mission were the one to one business meetings that were organised, where mission delegates had the opportunity of meeting Chinese counterparts interested in both trade and investment opportunities.

Commenting on the mission, President of the Sri Lanka - China Business Council of the Ceylon Chamber of Commerce, Navindra Abeyesekera, who led the delegation, stated that the mission had achieved all objectives that it had set out to achieve; viz.,
To identify and enter into discussions with potential Chinese firms, for
products with potential to market in China
To create a forum for bilateral trade opportunity evaluation with prospective Chinese enterprises, with the support of the respective Provincial CCPIToffices and Chambers.
To gain knowledge and greater understanding of doing business with Chinaand in particular an understanding of the key challenges
Several delegates have already begun exchanging samples, conducting negotiations and discussing potential investment opportunities and were hopeful of concluding business transactions very soon. The knowledge gained about how the Chinese business network operates, ways of conducting business negotiations, the supporting infrastructure etc were invaluable insights gained by the delegates. The receptions granted to the Sri Lankan delegates by the Chinese counterparts were extremely cordial and friendly stated Abeyesekera. The receptions were hosted by key representatives of the public sector, who held very influential positions and as a result brought about great recognition to the council.

The trade and investment mission proved to be extremely successful, as evidenced by the confirmation of follow up visits from both sides in the near future. To date four delegations from China are expected to visit Sri Lanka soon after the Chinese New Year as a result of this mission.