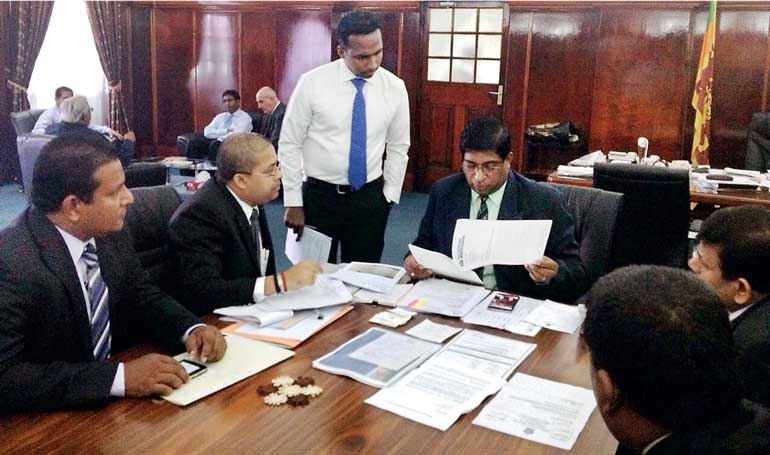 The Tiles & Sanitary Ware Importers Association (TSIA), a decade old importers chamber have been appreciative with the Budget 2016 hearing after it maintained support to the TSIA and tile and sanitary ware consumers all over the country. The Government had maintained, this time round, the duty and cess reduction for the import of tiles and sanitary ware into Sri Lanka during the recent budget hearing that was presented by Minister of Finance, Ravi Karunanayake. Members of the TSIA have been very contented and expressed their gratitude to Minister Karunanayake and his officials for their professional and tolerant approach in supporting the import of these products.

Tile and sanitary ware importers were facing a major issue with regard to duty and cess levies that were imposed upon them. After the recent Budget hearing, Minister Karunanayake, who had reduced import tariffs on tiles and sanitary ware during the previous year's budget, had maintained the same position this year, providing a platform of support to the TSIA as a result. Minister Karunanayake had helped reduce import duty and cess which used to be imposed at 160% from the Budget hearing last year and had ensured that the abridged percentage remained intact after the recent hearing as well.

"There are a lot of threats in the market that the industry is facing. Therefore, we wanted to come out as a team and sustain an input mechanism. As an organization, we are of the view that there should be fairplay. We no doubt respect local manufacturers and their stand in the industry. Tile and Sanitary ware importers too play a vital role in catering to various other demands in the industry. With the recent budget hearing and through Minister Karunanayake's continuous intervention, importers can once again make available these products at a reasonable price," Tiles and Sanitary ware Importers Association, President, Kamil Hussain said.

Tiles and sanitary ware today, has become a commodity that has defined itself as a basic need. These entities are no longer considered luxurious and utilizing these products does not always incline itself on the aspect of aesthetics but is meant to assist towards maintaining a hygienic and sanitary lifestyle. And with the current trajectory focusing on growth in the construction and real estate sector, this only means that demand would grow, especially when it comes to foreign funded mixed development and condominium projects.

Within this sphere, the demand for aesthetically produced tiles and sanitary ware will only continue to grow and in many of these occasions, the local manufacturer is limited when it comes to supplying to a higher demand in tiles and sanitary ware.

There also tends to be some aspects of tiles and sanitary ware that require to be manufactured to a certain specification whilst utilizing some technological attributes that is not available in Sri Lanka. This is where the importers come in. As many Sri Lankan importers bring down products from countries such as India, China, Germany and the UAE, individual perceptions might feel inclined to think that most of the brands arriving into Sri Lanka wouldn't uphold that level of quality. But, this is far from the truth as importers ensure that the best products are brought down from the most reputed and recognized tile and sanitary ware manufacturers worldwide.

"In Sri Lanka, the cost of energy is exorbitantly high and this would of course affect the product cost. Initially, the imposed duty and cess levy was placed at 160% and this meant increased prices for consumers. With the Government's policy to incentivize and boost the construction industry in Sri Lanka, they had also looked at reducing the costs of construction and provide the public with an option for affordability and a chance for them to improve their lifestyles. This also means that now, even Architects and Interior Designers who have had felt restricted in terms of creativity, need not worry about the cost of acquiring elements of beautification," Hussain added.