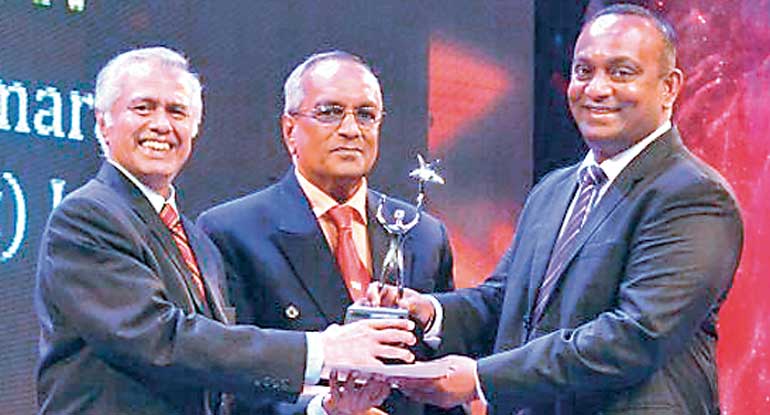 Three Sinha Group of Companies received the honor of being made winners of the Silver and Bronze awards at the 'Entrepreneur of the Year' award ceremony organised by the Federation of Chambers of Commerce and Industry of Sri Lanka (FCCISL). The awards were presented to the organisation under the national level and western province under the large scale industry category. Managing Director of the Group Manjula Ariyakumara stated that in the past few years Three Sinha Group of Companies has had the distinction of winning several awards at a national and provincial level.

He further added, "First and foremost, our products have received ISO 9000:2008 quality standards certification. In 2009, Sinha received the award for the best roller door from the Institute of Architects of Sri Lanka and awards in 2007 and 2008 from the Australian Steel Link Engineering Institute. And the International Business Award in 2009 for quality manufacture of roller doors together with quality standards certification, reassuring its customers of the high quality standards set by Sinha for its Roller doors. In the year 2007, we received the INCO award and the national Shramabhimani Awards. In 2010, we received the "Janashakthi MACO Award by the Association of Media Agencies. At the 2012 "CNCI Achiever Awards" ceremony, we won the Gold Award for the large scale manufacturing category at the national level."

Three Sinha has excelled in the manufacturing sector and introduced novel and innovative products to its customers such as Roller Doors, Roller Shutters, Sectional Overhead Doors, Window Shutters, Fire Resistant Doors, Aluminum Fabrications, Sensor Doors, Stainless Steel, Steel Railings and Stairways, Polycarbonated Canopies, Stainless Steel Pantry Cupboards, Rack Systems, Steel Buildings, Automatic Barriers, Automated Sliding Gates and Swing Gates, Power Generators and Hot Water Systems.