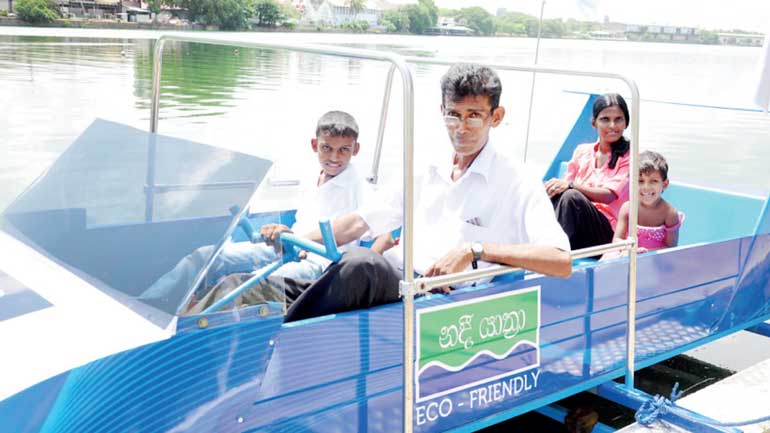 Indresiri Karuanthilaka with his wife and children at the launch of his

wave-less boat in 2014 - Pic by Sameera Wijesinghe
By Malik Gunatilleke

The Sri Lankan inventor is one who must work amidst a host of challenges and must be endowed with gutsy perseverance to avoid becoming a victim of his circumstances, the creator of the award-winning wave-less boat, Indresiri Karuanthilaka, stated on the eve of The Ray award ceremony.

As the inaugural winner of the prestigious award given by the Ray Wijewardene Charitable Trust (RWCT), Karunathilaka counts himself fortunate for the support he received from what he believes is the only private institution which "truly supports the modern-day Sri Lankan inventor."

"Sri Lanka is a difficult country to be an inventor in. You don't receive much recognition for your creations which is why most people end up selling their patents to foreign companies," he said.

He added that support from the Government and politicians was limited as there wasn't much public interest in poor inventors who usually do not have the capital to turn their ideas into marketable products. Banks and private companies including private entrepreneurs have little faith to invest in an inventor's vision which has stifled ideating in Sri Lanka.

"It's almost like we as a group have been born in the wrong place at the wrong time. In other countries you have a lot of support for young minds and ideas. In Sri Lanka, you have to work doubly hard to make your dream a reality," he said.

However, Karunathilaka added that the RWCT was the only institution that he had come across which really helps inventors. Although it provides no financial support, he stated that it gives inventors the exposure and encouragement they need to take their ideas forward.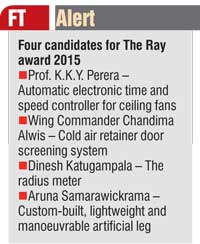 "Personally, winning The Ray award was a great boost for me. I was motivated and stimulated to work on other ideas. It was a real turning point for me as an inventor," he said.

To create his wave-less boat, Karunathilaka changed the standard hull of a boat from a 'V' shape by including non-symmetric twin hulls fixed inversely, allowing the water to travel through the hollow midsection of the hull. This in turn prevented the boat from creating waves that go on to harm river banks and cause erosion.

The boat was 36 feet wide and could accommodate around 50 to 60 passengers. The boat could travel at an average speed of about eight to 10 kmph and was also unsinkable, which negated the need to wear lifejackets. The money he had saved to build his home and purchase a vehicle had instead been poured into this project, which he believed would revolutionise the boat service in the country and galvanise the tourism industry as well.

The wave-less boat that Karunathilaka first built several years ago, won numerous awards including the Presidential Award in 2008, International Silver Prize at the Seoul International Invention Fair in 2009 and 'The Ray' award in 2012. He also received a grant of Rs. 1 million from Commercial Bank to assist him in preparing his invention for commercialisation. After formally launching a smaller version of his creation in honour of the late Dr. Ray Wijewardene last year, he stated that he has been working on a host of other innovations including an eco brick machine and an efficient vehicle refurbishment technique. Four pioneering Sri Lankan inventors have been shortlisted for the second Ray award to be given out tonight at a ceremony to be held at The Kingsbury Colombo. The winner will also receive a grant of Rs. 1 million from Commercial Bank.