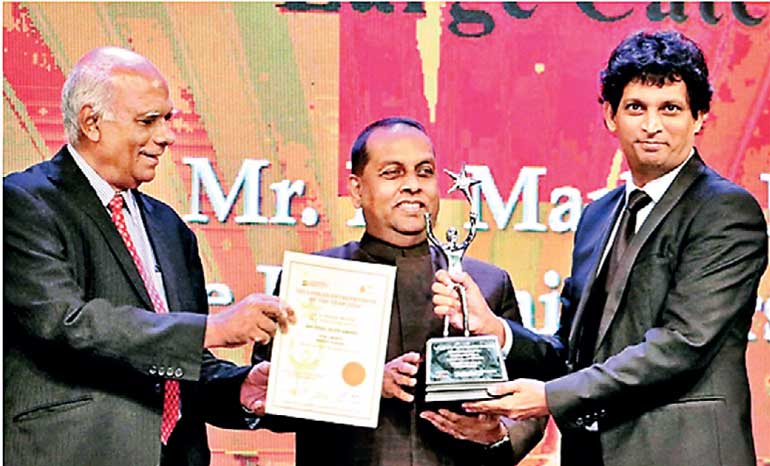 Marlon Ferreira, Founder/Managing Director of The Exterminators Ltd., one of Sri Lanka's premier SME enterprises clinched the Provincial Silver Award and National Silver Award under the large category at the Sri Lanka Entrepreneur Awards 2016 organised by the 'Federations of Chambers of Commerce of Sri Lanka (FCCSIL). The event was held at Stein Studio's Ratmalana.

Exterminators thank each and every customer, supplier and specially the present and past employees who believed and shared the vision from the inception of the company. Exterminators continue to showcase their commitment towards business excellence while setting up benchmark in environmental sustainable business practices in the SME sector in Sri Lanka and the region.

Marlon Ferreira stated, "We at Exterminators didn't change the direction of the wind but adjusted ourselves to reach our destination and today we have embarked on a new journey to reach bigger goals." We also understand as one of Sri Lanka's premier SME enterprises; we need to lead our way by being accountable for making responsible decisions and finding ways to lessen our impact on Earth. Exterminators Ltd. is a first ISO 9001, ISO 14001 and OHSAS 18001 certified pest control brand, providing innovative pest management services since 1998 to help make people's lives more safe, comfortable and livable. Exterminators is the winner of 46 awards for brand excellence, business-industrial excellence and entrepreneurship and the only 'Carbon Neutral' certified pest management brand in Asia. Further information please visit their new office at 02, Ascot Avenue, Colombo 05, 0117760760, www.exterminators.lk.