Q. Financial indicators in the commercial office market mirror demand and supply dynamics. How would you characterize Colombo's Grade A office market from this perspective?

A combination of demand and supply factors affects rental value, which is a primary financial indicator of performance. Demand in commercial real estate is both user and investment driven, while the supply side considers the available office stock and construction flow.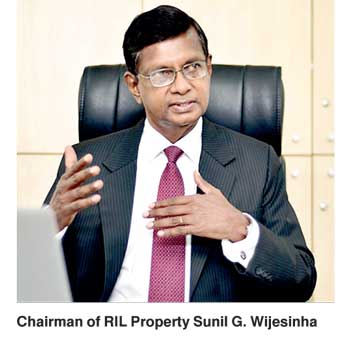 The Colombo Grade A market has limited multi-tenant office space. Occupancy levels which stood at about 60% in 2009 are now as high as 95% and has resulted higher rental values. Due to the scarcity of Grade A office stock it is inevitable that additional demand now trickles down to lower grade developments.

Q. According to JLL Research data, it is forecast that demand will continue to exceed supply. Demand for Grade A space in 2016 is said to be approximately 3.5 million sq. ft. which does not match supply. Will this leave a shortfall in the market and returns?

So far owner-managers of Grade A office realty have commanded premium rentals particularly from MNCs and address-conscious domestic companies. In the preceding three year period considerable rent escalation has been possible in this tenant segment.

I believe that the Grade A office market's return potentiality will be mainly 'demand-driven'. We have in the recent past experienced a fundamental paradigm shift in the socio-political and economic environment. There is improved sentiment and visibility for Sri Lanka as an investment and business destination. Demand-side factors driving office market performance primarily begin with diversity of economic output and the resulting impact on productivity and employment. To this end, we have already begun strengthening Sri Lanka's competitiveness. Marked progress is underway for structured urbanisation, infrastructural, transport and communication solutions particularly through both State and private sector involvement. Impetus for FDI is being created and Sri Lanka can through these activities increase its global appeal to induce an MNC influx. Growth potential in key sectors including ICT, tourism, banking and finance and apparel can be expected to drive demand for specific or bespoke work spaces. Higher demand will support absorption of new or improved office stock where the offering targets the specific needs of the user. We can expect the positive return trend to continue, particularly in prime office realty where the offering carefully targets exhaustive requirements of related tenant groups.

There is a notable supply gap in the Grade A office market taking into consideration projected demand and supply. Construction flow is anticipated in 4-5 years' time in response to demand. There has also been a trend for repositioning old stock which has resulted in positive returns. Nevertheless, it has been the experience of several global cities that refurbishments aligning closely with targeted users can gain incremental rental and capital value appreciation even under conditions where the supply gap is seen to be closing.

Q. In addition to conventional industries, such as the banking and financial services sector and the manufacturing sector, government agencies have been very active in leasing space in premium office buildings in the recent past. Is the return potential impacted through these activities?

In Colombo's experience refurbished government-agency-owned spaces have been an effective way of improving performance of select office stock. These additional spaces became available in conditions where there was a shortage of supply and as repositioned in terms of design, condition and amenities several proved to be successful investments. Positive returns in terms of rental and capital value appreciation can be anticipated to continue over the medium-term.

Over the long term the Western Region Megapolis and its contribution to the physical and social infrastructure and economic development would add construction flow and work to increase office space supply. The increased economic activity levels resulting from this project would also drive demand. Tactical new investments or repositioning of selective older stock in the CBD and adjacent areas can also expect a similar positive-return dynamic.

Q. How do you view the return potential of the Grade A office market?

Grade A markets in the CBD have been able to command rent increases of 10.0-15.0% every two years in the recent past. The capital value appreciation is expected to be in the range of 7-8% Year on Year, collectively offering total returns in the range of a noteworthy 11.0% to 14.0% on an annual basis.

Prime office space is well placed for positive returns from both a rental and capital value appreciation perspective as the advantageous foundation of particularly demand conditions gain momentum. Of course, there has to be concrete focus on maintenance as well as attracting and retaining occupancy levels to achieve the income and value enhancement.

Q. According to a survey carried out by JLL, Grade A buildings offering elite specifications and features are able to charge premium rents from MNCs. Can you tell us how PARKLAND defines its offering?

Parkland certainly meets all the requisite physical and social infrastructural features, locality and the distinctiveness expected of a Grade A space. We have additional infrastructural and design innovations as well as sustainability features which provide conducive work environments and cost efficiencies for tenants.

The quality of property and facilities management services further sets us apart. We focus on demonstrating our commitment to tenants by maintaining premium office spaces while providing the full services spectrum to meet their needs. Our services are optimally priced and we build on a culture of best practice. I would say we have created a superior office space that intends to exceed the commercial real estate needs of discerning tenants, particularly multinational companies.

A few months into our launch we have already achieved a higher MNC dispersion in our tenant mix. Our diversified tenant base includes Marks & Spencer, Mast Far East, Dole, Envoy, Dialog, Mobitel, Ericsson, Regus, VA TECH WABAG, LTL Holdings and Maersk Lanka.

Q. Essentially, there is no official classification for premium institutional grade office space. However, the comprehensive requirements of discerning tenant groups in the market largely dictate the benchmark or the common denominators. What are the specific features that Parkland offers which makes it a distinctive Grade A office space?

As our flagship asset, Parkland reflects RIL Property's ideal of 'office spaces that inspire work'. To begin with we are strategically located in the core CBD area. We have an iconic presence which makes Parkland über-contemporary amongst other landmark buildings.

We have paid close attention to the quality and efficiency of the construction and design process to ensure that Parkland is as sophisticated in its tenant- offering as it is in its visual elegance. We ensured that the façade, architectural requirements and specific features resulted in an industry-leading solution.

Parkland features 22 spacious floors with large floor plates. Work spaces are pre-installed with voice, data and digital TV infrastructure facilities with high speed fiber optic connectivity.

Our intelligent car-parking and guiding is one of several progressive features we have added to give Parkland competitive edge. We have superior security features, centralised PA systems and a central operation command centre.

Five high-speed elevators each with a 22 passenger capacity, two service elevators and two escalators leading from the main entrance collectively make navigation within the building time-efficient. We provide uninterrupted electrical power supply and air-conditioning systems for a facilitative work-environment. Tenants circumvent individual UPS costs while benefiting from the mission critical controls of our energy supply system. We have also incorporated sustainable design features including built in insulation for energy efficient air conditioning, CO2 sensors with demand control ventilation, efficient office lighting with latest LED technologies, rain water harvesting system for general cleaning & maintenance of the Property.

Q. Sri Lanka is seen as a nexus of economic growth. MNCs are considering Sri Lanka to be an upcoming commercial hub. Further, MNCs are generally seen as quality and address-conscious tenants. If their requirements are met they usually do not hesitate to pay a premium for the space. Therefore, should Grade A office spaces be considered as priority for developers and investors?

MNCs have comprehensive real estate needs when it comes to institutional grade office space. Even at present owner-managers of Grade A space have the ability to command premium rates. With continued demand expectations, developers and investors should consider this area as lucrative. It is backed by income and capital value appreciation potential as we have discussed and the demand conditions should lead to favourable pay-back periods especially if backed by construction related cost incentives as with the Megapolis related developments.

Q. The upcoming Megapolis project which aims to transform the CBD is expected to also impact the supply dynamics of the office market. How do you see this in terms of meeting/exceeding the supply for the office market?

Through its zoned approach the Megapolis would create a polycentric industrial and commercial spaces targeting specific user groups. This may benefit by attracting specific types of tenants, planning consents and other construction incentives. The Megapolis is projected to be completed over a period of 15 years which means the supply impact also will be phased over the long term.

Q. What is your opinion on the Megapolis' strategic locations of development? Would RIL Property consider those locations in future investments?

The Megapolis has several key projects to be executed in tactical locations across the Western Region. These have the attributes that support the main objectives of attaining economic goals, advancing infrastructure and giving due regard to both governance and social equity.

With the propensity for development, these locations, especially those in the core CBD areas are of importance from an investment perspective for Parkland. Our overall acquisition strategy focuses on investments which are generally demarcated by their versatility for transformation and capital appreciation. We would consider supply and demand ratios, potential rent growth and capital value appreciation in evaluating our investments.

Q. What makes commercial real estate an attractive investment?

Real estate as a class of assets serves to offer a number of advantages which include attractive and steady returns, portfolio diversification and lower volatility in comparison to most other investments. In Sri Lanka direct investment in the residential real estate sector was predominant in prevailing macro and micro economic circumstances. Commercial real estate is an area of emerging interest.

Commercial real estate has more significant value and the potential of generating steady income through rentals comparable with a well-chosen residential investment, but also has the benefit of capital appreciation if strategically targeted even in an over-supply circumstance. With residential real estate which appreciated in value rather steeply, much earlier on in the economic cycle, we can expect to experience a tapering off of momentum particularly in capital appreciation potential.

Q. Any additional comments?
Direct investment is not the only way investors, particularly retail investors can get exposure in to real estate. There is investment in equity and debt issued by real estate companies and also REITS through which an investor can get exposure. Listed REITs are not currently available as an investment option in Sri Lanka. Equity investments in commercial real estate is suitable for investors through its underlying steady cash flow via ongoing rentals, and in the local market, anticipated capital appreciation.