In an atmosphere of deepening US and Sri Lanka relations improving trade and investment is supported by a largely structural progamme in the form of a Trade and Investment Framework Agreement (TIFA) between the two countries but promoting tariff-based export benefits is largely dictated by political realities says US Assistant Trade Representative for South and Central Asia Michael Delaney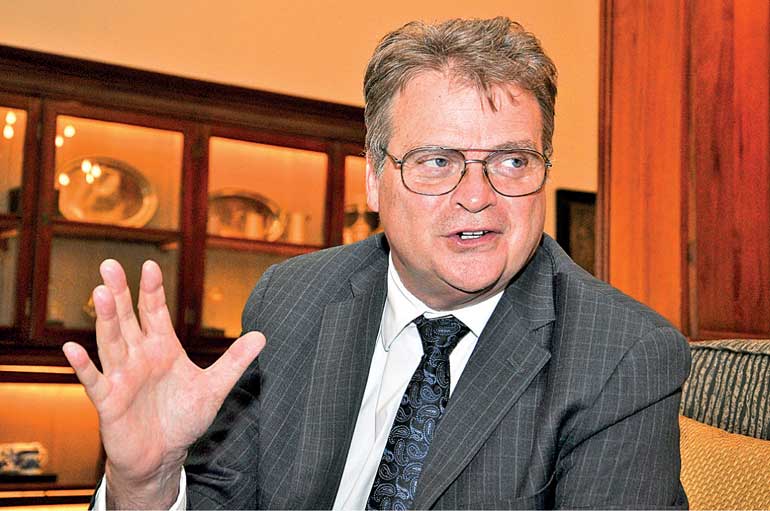 US Assistant Trade Representative for South and Central Asia Michael Delaney

– Pix by Ruwan Walpola
By Uditha Jayasinghe

Q:What are the chief impediments to trade between the US and Sri Lanka?

A: Right now we have, what I would describe as a pretty good trade relationship. We are the largest purchaser of Sri Lankan exports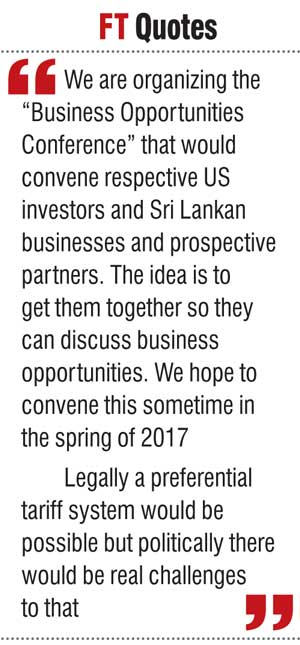 and the majority of that is apparel. But having said that we all recognize our current trading relationship is just a fraction of what it could be. I would say, what is holding back greater growth in this would be fairly high import tariffs, some of these are para-tariffs, cess or various charges that have been imposed in recent years. On investment there are a number of barriers to Foreign Direct Investment (FDI). Land taxes, problems with importing intermediate goods, which affects manufacturers who need to bring in components and there are problems associated with that, other issues as well. So we think there is great room for improvement in both trade and FDI regulations here.

Q:What, in your view, are the key reforms the Sri Lankan Government should focus on?

A: One of the things the Government of Sri Lanka wants to do is address this long standing need in South Asia for a regional services hub. There is no regional hub in South Asia; it is a need that is being imperfectly filled by Dubai, Singapore and others. To have an effective regional hub an enabling environment is necessary. To allow Sri Lanka to do that you would have to have a legal framework here that would allow the import and export of goods, services and people; facilitated fast import and export of movement of people, goods and services. So my counsel would be to address the impediments to that.

Q: Do you think such liberalization is feasible given the significant objections raised against ETCA?

A: That's a good question. I'm familiar with the political constraints and political considerations; certainly we have that in the United States as well. We have strong voices that are opposed to change so I can sympathize with the Sri Lankan Government. But I do think that the key to this is to explain to the people of Sri Lanka that open markets create prosperity, they grow income and jobs and that means a better life for ordinary Sri Lankans. For parents raising kids, their children will have a chance of a better life and this is the argument that has to be made.

Q: How soon do you think the TIFA work plan would be implemented?

A: TIFA is the Trade and Investment Framework Agreement, which is the premier dialog we have with Sri Lanka. The goal of TIFA is to grow our trade and investment relationship. We have TIFAs with many countries and we have found it to be an effective dialog and have been so with Sri Lanka. Our "Joint Action Plan to increase External Trade and Investment" is a five year plan. All of the elements of that plan, which we have more or less finalized, has many elements but the common denominator is they all have the aim of removing impediments to greater external trade and investment. What we really need to do and what we are really close to finishing is having a one year work plan for this five year plan. We expect to unveil that in the next few weeks and this will guide us in our work going forward.

Q: What are the key points in the one year work plan?

A: First we are using several US programming agencies to provide expert assistance to various trade and investment related ministries in the Government to increase their knowledge of world class investment standards and to assist them to transition to world class investment standards. The other thing we think is necessary as we seek to grow FDI here, there has to be a lot more interaction between Sri Lankan and American private sector. To that end we are organizing the "Business Opportunities Conference" that would convene respective US investors and Sri Lankan businesses and prospective partners. The idea is to get them together so they can discuss business opportunities. We hope to convene this sometime in the spring of 2017. It's a big undertaking we have hundreds and hundreds of people involved. I've had discussions on dates and venues. We have to finalise this in the coming weeks. We envision this as a series of conferences and this would be the inaugural one.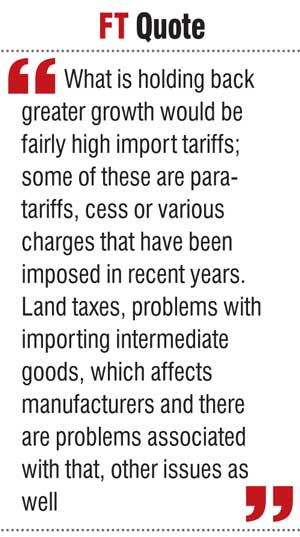 Q: One of the key criticisms against trade negotiations the government has undertaken so far is that they are not underscored by stronger liberalization. Can TIFA bridge this gap?

A: We are very encouraged by the Government's understanding of the situation; the reality that overall exports as a percentage of GDP has been in decline for some time. This has to be addressed. We are encouraged by the Government's intentions. They told us they want to adopt world class trade and investment standards, I think they understand what that means for income, employment and overall prosperity so while there are political challenges to be sure, we are encouraged by their determination to move forward.

Q: Is there any financial support under TIFA?

A: We work with programming agencies and there are substantial resources being devoted to this effort amounting to millions of dollars. It is also mostly focused on technical and expertise transfers.

Q: The Sri Lankan government has called for a preferential trade programme in line with existing US programs such as the Qualifying Industrial Zones, the Special Programs for Haiti, the Africa Growth and Opportunity Act, as well as the Special Programs for the Caribbean and Andean countries. Is this a possibility?

A: In the short term we see real challenges to that, mainly because of our election cycle. Our current administration is heading out the door. It will be several months before a new one is stood up and who knows what their policies will be? So in the short term we see this as a challenge. We already have tariff preference schemes that Sri Lanka benefits from, namely generalized system of preferences (GSP) and we think we can do more with this programme and one of the things we talked about today was arranging outreach programmes to explain to Sri Lankan exporters and US importers what the programme is. There is evidence to suggest the programme is not fully utilized.

Q: Is there a possibility for apparel to have stronger access to the US market?

A: There are about 3500 GSP eligible products so we would want to address all those products.

Q: But many of those products are not manufactured in Sri Lanka or they are not manufactured in sufficient quantity for export. So do you not think boosting exports under GSP would be difficult?

A: A lot of apparel items are not included in GSP but the ones that are included is something that would want to focus on.

Q: So would a preferential tariff programme be possible at all?

A: Legally yes it would be possible but politically there would be real challenges to that.

Q: Policy inconsistency is a key criticism of this Government, and was also the main reason for SL stagnating in the ease of doing business rankings. Do you see this as a deterrent to investment?

A: Those business indices have become much more important in recent years. I think businesses pay more attention to them so I think the Government recognizes the need to address those issues and I believe they are trying.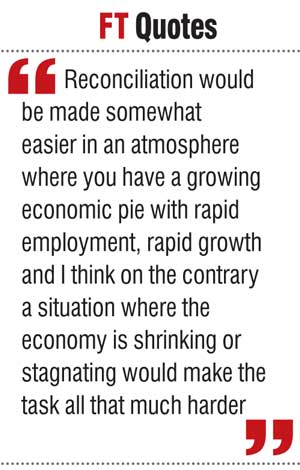 Q: Have you touched upon these issues during your discussions with Government officials?

A: In my discussions I believe they have a very good understanding of the challenges.

Q: Getting buy-in for reconciliation, especially a new Constitution, from the Sinhala-Buddhist majority is heavily dependent economic growth. How concerned are you that Sri Lanka failing on the economic front will derail reconciliation efforts?

A: I think the Government understands the need to put the economy on a higher growth track, as I have said in the past the goal of national reconciliation is a daunting one and will take time. I would only say as an economist that I think this whole task would be made somewhat easier in an atmosphere where you have a growing economic pie with rapid employment, rapid growth and I think on the contrary a situation where the economy is shrinking or stagnating would make the task all that much harder. I, for one, am an optimist on the Government of Sri Lanka achieving higher growth.

Q: China has indicated it is prepared to invest $5 billion over the next four years in Sri Lanka, provided Government approves key measures such as dedicated investment zones. How does the US view China's continued involvement in Sri Lanka?

A: I don't have a view on it. That is between China and the Government of Sri Lanka.

Q: Sri Lanka is exploring the possibility of becoming a partner of TPP as a long term strategy. Do you see this as a viable policy?

A: Our first priority for TPP is to focus on the existing membership and get it up and operating now. So that frankly has been our chief focus. It is no secret that the TPP is designed for additional membership but again our entire focus has been to simply get the initial TPP up and running. For Sri Lanka it would have to be considered in the future. I don't think it has been given much consideration so far.