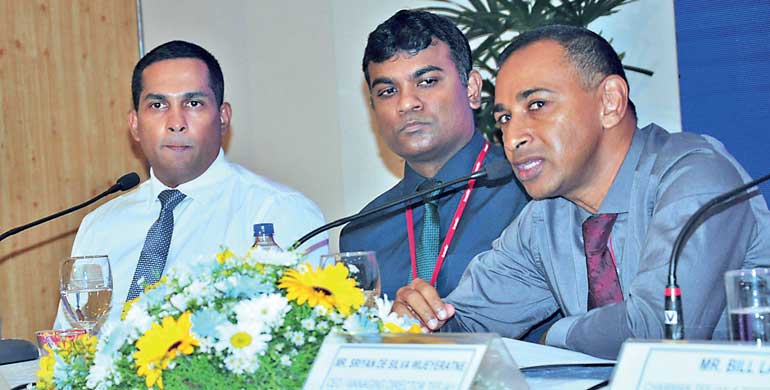 By Devin Jayasundera

Teejay Lanka Plc is planning to double its business by 2020, targeting a growth strategy focused on South Asia.

The company's already established Indian operations, which are valued at around $ 50 million, will be the major contributor towards growth according to its management. Teejay reported a net profit increase of 47% and the top line increased by 48% during the first half of the year while recording profit growth for nine continual quarters.

"We just kicked off a $ 13 million investment in expanding the capacity in India. The capacity is doubled in two phases. We expect the first phase to be live and commercial in the early part of next year. It is an aggressive investment plan that we have," said Teejay Lanka CEO Sriyan de Silva Wijeyeratne.

The company has redefined its strategy from a primarily fabric manufacturer to building a brand as a leading apparel manufacturer.

Teejay is also planning on expanding synthetic textile manufacturing facilities. "We plan to expand our synthetic capabilities in Sri Lanka. That was one of the core needs the industry was struggling with for a long time. Currently 90% of synthetic fabric is imported to the country. Teejay has started manufacturing synthetic fabric with a $ 4 million investment," Wijeyeratne added.

Explaining the reason behind the rebranding, Wijeyeratne said: "We were very clear we want to build a global footprint. Over the next few years this name will be a household name not only in the country or the region but in the entire apparel world."

Teejay Lanka Plc is a joint venture between Sri Lanka's Brandix Lanka Ltd. and Pacific Textured Jersey Holdings Ltd., a fully-owned subsidiary of the Hong Kong-listed Pacific Textiles Holdings Ltd.

Addressing the gathering, Brandix Lanka CFO Hasitha Permaratne outlined the current dynamics and the challenges ahead for the apparel industry.

"The types of products are changing more towards synthetics and new product ranges. The fast fashion business is becoming more and more relevant. Online sales are taking over the stores as we speak. With all these changes Sri Lanka's apparel industry is going through a dynamic and changing environment," said Premaratne.

"The industry is going through a revolution in Sri Lanka. More and more players are investing in technology which is a very important angle to change the dynamics of production, marketing and distribution. In that backdrop Teejays role is going to be very crucial," he said.

The competitive nature of global fashion houses has induced shorter lead times for apparel manufactures to cater to the high demands of consumers. In that context Premaratne said: "The time that we have to produce these goods and sell these in the market is reducing. This means we need to have the supply chain closer to us. So fabric has to be closer."

Premaratne believes the synthetic fabric manufacturing technology of Teejay will strengthen the backend capabilities of the company to ensure value additions of its products.