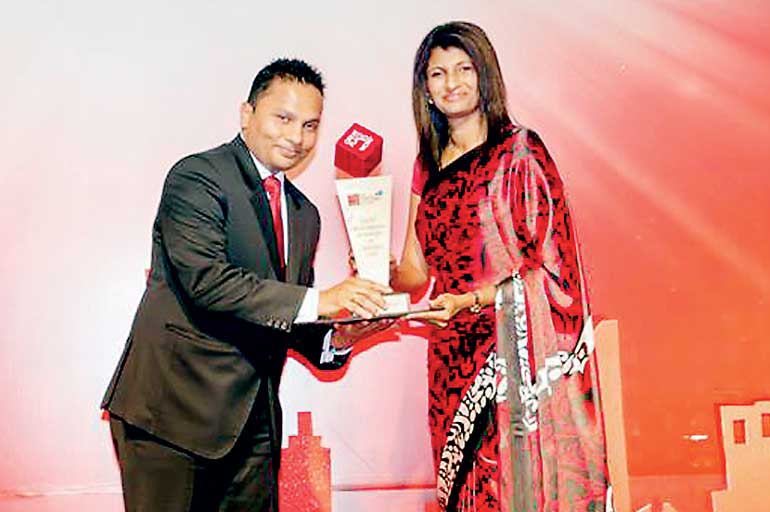 Resident Manager Ranil Perera receiving the awards at the event
Great Place to Work Institute in Sri Lanka felicitated the 'Top 20 best companies to work for' in the country after a comprehensive study done in partnership with the Ceylon Chamber of Commerce. Taj Samudra was honoured to receive two more awards; Bronze category in Best Multinational Corporations in Sri Lanka and Bronze category in Best Medium sized Enterprises in Sri Lanka.

Taj Samudra, Colombo the only hotel to be amongst the top 20 of the best organisations won this prestigious award for the third consecutive year and the ceremony was held last week amidst a large gathering of distinguished invitees from various organisations.

Area Director Sri Lanka and Maldives and General Manager of Taj Samudra Colombo Sarabjeet Singh commented, "No matter how advanced technology gets, the human factor is by far the key to the success of any organisation. Taj Samudra Colombo fervently believes that our people are the key drivers of our business. This is why our associates are not just people who work with us, but are an integral part of our success story."

Taj Samudra has scored highly on the parameters of pride, credibility and camaraderie. Some of the highest scoring statements reveal that employees are extremely proud of the organisation they work for. Also they believe that the hotel offers a friendly and welcoming environment with competent managers – which employees value greatly, the working environments are safe, welcoming and do not discriminate.