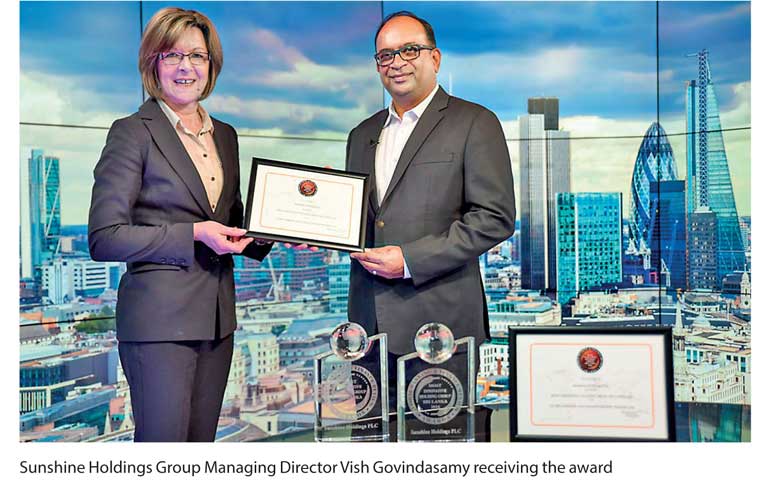 In recognition of using high-tech applications in Sri Lanka's agribusiness sector, launching of new innovative brands, ensuring high standards of customer service and strong client relations, Sri Lanka's diversified conglomerate, Sunshine Holdings was awarded 'Most Innovative Holding Group' by Global Banking and Finance Review – the leading financial and banking magazine in the United Kingdom.

This prestigious honour is the second time in a row that Sunshine Holdings has received it, the organisation itself, now celebrating its 50th year of innovation, achievement, strategy, inspirational changes and responsible entrepreneurship.

Sunshine Holdings Group Managing Director Vish Govindasamy said, "We are thrilled to receive the award which is testament to our journey over the past 50 years."

"The award has further validated our ongoing efforts to provide our customers with superior consumer brands, utilising innovative solutions to expand our presence locally and globally. It also reflects our commitment and passion as an organisation that constantly pushes boundaries to meet consumer demands which keep changing rapidly," added Govindasamy.

Sunshine Holdings, this year, celebrates 50 years of responsible entrepreneurship, having its origins as a retail pharmacy in Gampola town in 1967. Today, Sunshine Holdings has become a leading conglomerate by diversifying into agribusiness, healthcare and consumer sectors. The Group's partnerships with global majors such as Tata Global Beverages and Wilmar Group have resulted in Sunshine being a vital contributor to brands such as Tetley, Zesta Connoisseur, etc.

Global Banking and Finance Review awards were created to recognise companies of all sizes that are prominent in particular areas of expertise and excellence within the global financial community. The awards are known throughout the global banking and financial community. They reflect the innovation, achievement, strategy, progressive and inspirational changes taking place within the financial sector.