Plans $ 15-20 million long-term investment into dairy
Rs. 600 million investment into hydropower by 2016E
Rs. 150-200 million into expansion of Healthguard outlets by 2017E
By Channa Fernandopulle

Diversified local conglomerate Sunshine Holdings Plc is planning a significant expansion drive into the hydroelectric power generation, dairy and retail sectors.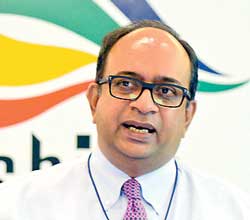 Speaking at a media roundtable soon after the group released its latest results for FY15, Group Managing Director Vish Govindasamy outlined his long-term strategy for Sunshine Holdings, including potential expansions of its Zesta Tea and Healthguard Pharmacy brands into international markets.

"We have already made very slow entries into Singapore and we had established a presence in Ukraine as well but unfortunately the situation in that country is now in turmoil. Nevertheless, we still hope to take the Zesta brand to the global market and in the future we hope to be at the forefront in all major export destinations for Ceylon Tea," he stated.

However, the group's plans for its dairy sector operations appear to be its most ambitious with a long-term $ 15-20 million investment anticipated with a view to overhauling its current small-scale operation which produces 1,500 litres of milk a day into a commercial farm of over 1,000 cattle producing 30,000 litres.

"We're very bullish about the dairy sector given that Sri Lanka imports such a large volume of powdered milk and that there are plans to make the country self-sufficient in dairy. I believe there is a lot of untapped potential in this sector," Govindasamy stated.

Meanwhile, describing operations in the power sector, Govindasamy stated that the group was hoping to expand its hydroelectric generation capacity from its current 1.8 MW up to 7.5 MW through the construction of two more plants by the end of 2016 through an investment of approximately Rs. 600 million.

"We are also looking at opportunities in solar and wind power generation as well and when the Government announces its plans for these sectors we will of course be very happy to participate," he explained.

The group's pharmaceutical chain, Healthguard, also performed well during the financial year, reaching the number two spot in healthcare retail during the last year. Moving forward, Govindasamy stated that to expand the retail chain's footprint from its current 20 outlets up to 50 outlets by the end of 2017 through an envisioned investment of Rs. 100-150 million.

"I would be really proud of we could also take the Healthguard brand international and perhaps open an outlet in one of our neighbouring countries. Such an expansion would require extensive market research and we're doing a lot internally to explore its feasibility but at present there are have been no concrete steps taken," he stated.

Notably, Govindasamy also expressed interest in the potential for manufacture of generic pharmaceutical drugs in Sri Lanka. However, he stated that policy direction from the Government would be required before such investments could be contemplated.

Meanwhile, acknowledging difficulties inherent to operations in the plantation sector, Govindasamy stated that the group's palm oil sector has nevertheless provided a valuable boost to its agribusiness segment which suffered from a lull in tea prices.

Sunshine Holdings is the largest player in the branded tea space, the single largest producer of Ceylon Tea among the Regional Plantation Companies (RPCs) and the is also the top domestic producer of palm oil in Sri Lanka.