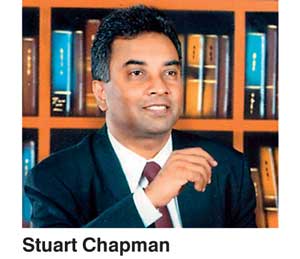 Top professional Stuart Chapman has been appointed to the Board of United Motors Lanka Plc as an Independent Non Executive Director.

Previously, Chapman was the Managing Director of GlaxoSmithkline (GSK) Pharmaceuticals and served on the Boards of Glaxo Wellcome Ceylon Ltd., and SmithKline Beecham Ltd.

He is a professional with over 36 years of industry experience having started as a field sales representative and progressed to head local and multinational organisations across diverse industries. His industrial exposure spans healthcare, FMCG, Consumer Durables, Insurance, Banking and Telecommunications.

Some of his previous appointments include Managing Director Hemas Healthcare Sector, Marketing Director Reckitt Benckiser, Senior Brand Manager Unilever, Managing Director/CEO Lanka Orix Leasing Company, Director Life Ceylinco Insurance and Marketing Manager Celltel.

Chapman has an extremely impressive track record of achievement in marketing and sales.

He has held several industry positions including Honorary President and a Founder Member of the Chartered Institute of Marketing Sri Lanka, President of the Sri Lanka Chamber of the Pharmaceutical Industry and Co-Chairman of Pharmaceutical and Cosmetics Steering Committee of Ceylon Chamber of Commerce.

He holds an MBA from the University of Colombo, a Diploma in Marketing and a Fellow of the Chartered Institute of Marketing UK, a Fellow of the Institute of Management UK, a Member of the Institute of Certified Management Accountants Australia, a Diploma in Life Insurance Sales and Marketing from the Life Underwriters Training Council USA and a Diploma in Business Management from the National Institute of Business Management, Sri Lanka.

With the latest appointment, the Board of Directors of United Motors Lanka Plc comprises of S.G. Wijesinha (Chairman), C. Yatawara (CEO/Director), A.W. Atukorala, A.C.M. Lafir, R.H. Yaseen, A.H. Fernando, Prof. K.A.M.K. Ranasinghe, T. Nomura and S.A. Chapman.