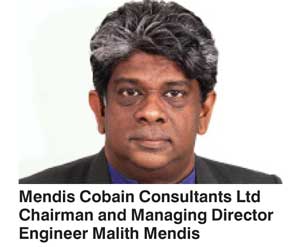 Addressing a Seminar on "Challenges & Opportunities for Infrastructure Development in Sri Lanka" jointly organised by the Civil Engineering Sectional Committee of the Institution of Engineers Sri Lanka and the Deakin University of Australia, Chartered Engineer Malith Mendis called for the establishment of a strong Public Private Partnership (PPP) unit to encourage investment into Sri Lanka.

He said that the last many years has seen primarily Debt-driven infrastructure development which has put the country in high risk due to the high interest loans taken.

"We require to change our mind-set to look at investment driven development, as 2016 looks to have a historically low Foreign Direct Investment into Sri Lanka. "We are seen as a country keen on borrowing ", Mendis said, " with Asia becoming the world's centre of gravity of Economic Development, we have to find our strategic prospects and our failure to attract investment will have a drastic negative effect on us. We have to move on to investment driven development, including Infrastructure development, and to encourage Public Private Partnerships (PPP)".

He called for the new Agency for Development planned by the Government to have a focus on PPP and to have a comprehensively staffed, independent unit that has capability to gather data and information, analytical capability and the availability of technical expertise. He said the previous PPP units set up in the National Procurement Agency and the BOI did not become robust and independent units and hence their demise. "Institutional capacity to plan and implement PPP, legislation and regulatory mechanisms for PPP are required for successful projects and these are sadly lacking in Sri Lanka. We can regulate by contract until regulatory measures are set up, but we still need a good PPP unit to handle these projects. Regulatory structures are required to ensure public interests and investor concerns are balanced. PPP is the way forward to reform the archaic State Owned Enterprises", he said.

Mendis, who is currently the Chairman and Managing Director of Mendis Cobain Consultants Ltd, is the Immediate Past President of the Association of Consulting Engineers Sri Lanka. A former Head of the Lanka Hydraulic Institute, (which was heavily involved in the design of Colombo South and Hambantota harbours), Mendis is a Fellow of the Institution of Engineers Sri Lanka and also a Fellow of the Institution of Civil Engineers, UK. He is also the Country Representative of the Dispute Resolution Board Foundation and a Member of the Capacity Building Committee of FIDIC (International Federation of Consulting Engineers) and Society of Structural Engineers Sri Lanka. Furthermore he has carried out Contracts Training in Sri Lanka, Timor Leste, Samoa, Brunei, Maldives, Fiji, Solomon Islands and Seychelles.